Giddings Intermediate School is participating in the Big Kahuna Fundraiser program. By using the link below, you will be able to shop for various items that will help raise money for GIS. Any purchases or donations made from you will be greatly appreciated! Please go to their shopping site:
https://bigkahunaprime.com?sellerid=7013559
. Individual students are earning prizes by selling items, so if you are shopping for a specific student, please contact the student's family to retrieve their individual shopping number. The link below is for anyone wanting to help support GIS, but items sold won't be credited to an individual student's account for earned prizes. Online sales end November 5, 2021 at midnight (Central Standard Time) If you have any questions, please contact Giddings Intermediate School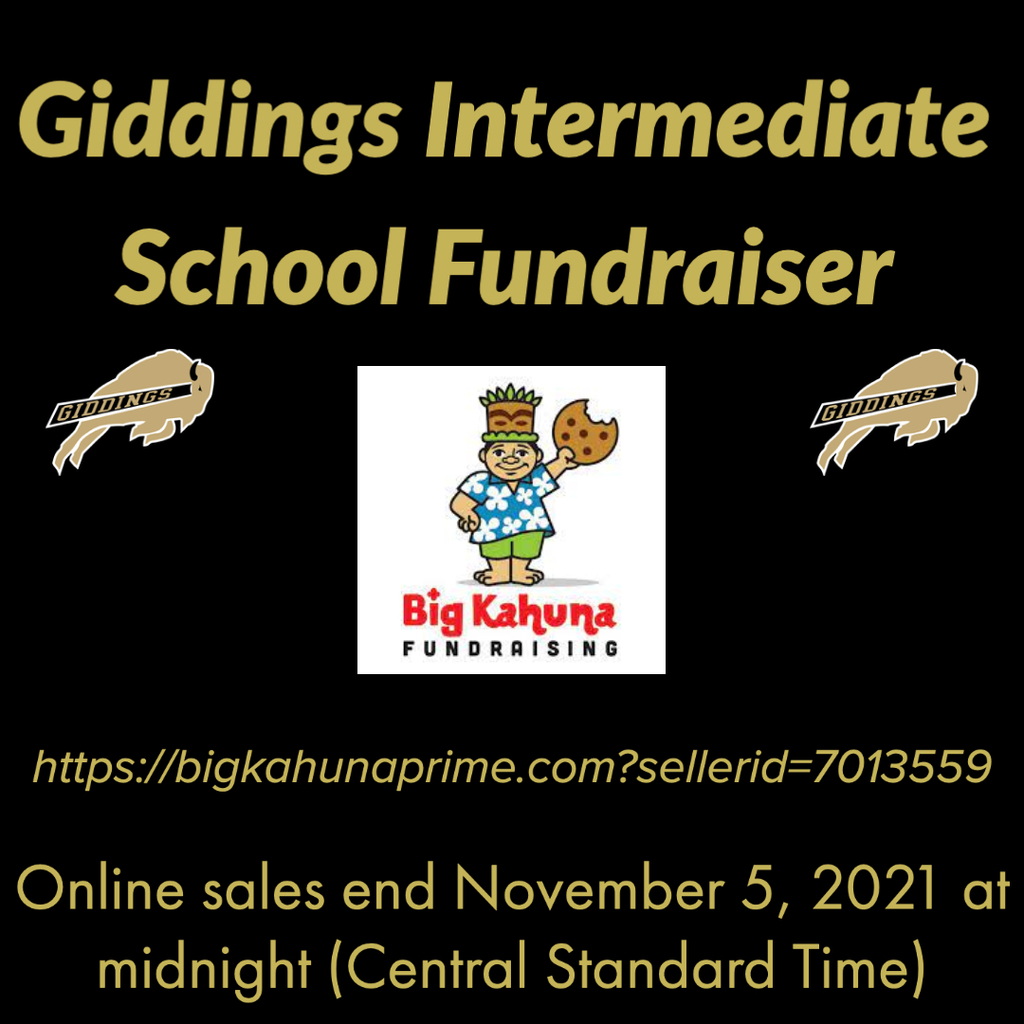 Due to a scheduling conflict, today's School Board meeting will begin at 5:30 PM (as opposed to the traditional 7:00 PM)If you have any questions, please contact the Superintendent's Administrative Assistant Dana Devoll at 979-542-2854.

Who is ready for an adventure? Come join us in 2023! We'll be headed to Australia & New Zealand over the summer of 2023! Interested in learning more about these trips (and how you can earn a $200 discount?!) Come to the in-person parent & student info session on Thursday, October 28th. RSVP is REQUIRED and can be done by scanning the QR code in the picture or visiting
https://bit.ly/3mPkXhM
. Can't wait to see the world together soon!

***GHS Boys Soccer Scarf Fundraiser *** Support the boys soccer team by purchasing a GHS Soccer or Giddings Community branded scarf, $20 for one or $35 for two. Contact Coach Pedro Eguez for more information.
pedro.equez@giddings.txed.net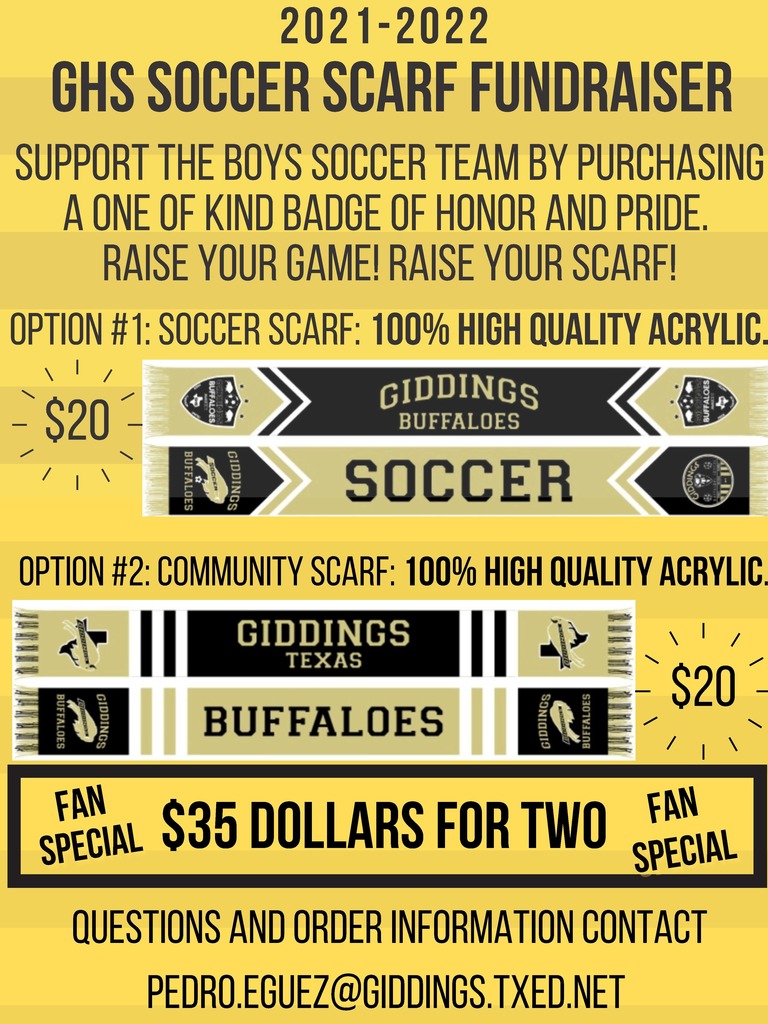 *** REMINDER *** EARLY DISMISSAL *** *** TOMORROW, OCTOBER 15, 2021 *** All GISD Campuses will dismiss 2 hours early tomorrow, Friday, October 15, due to transportation needs for participants in the GHS Varsity Football game in Cuero.

**GAME TIME CHANGE** The GHS Lady Buffs Volleyball games scheduled for Friday will be played as follows: Varsity-4:30; Freshman & JV - 5:30. These will be the last home games of the season. It is also Senior Night.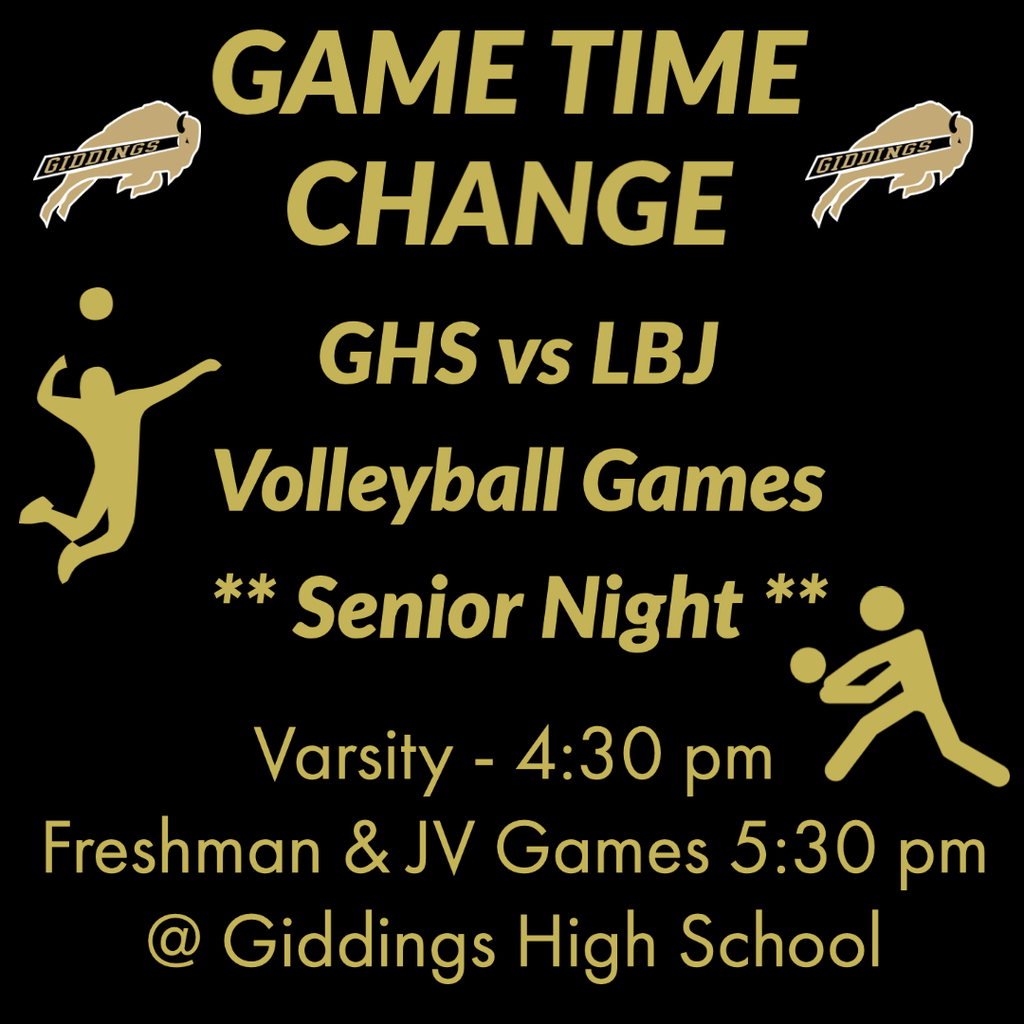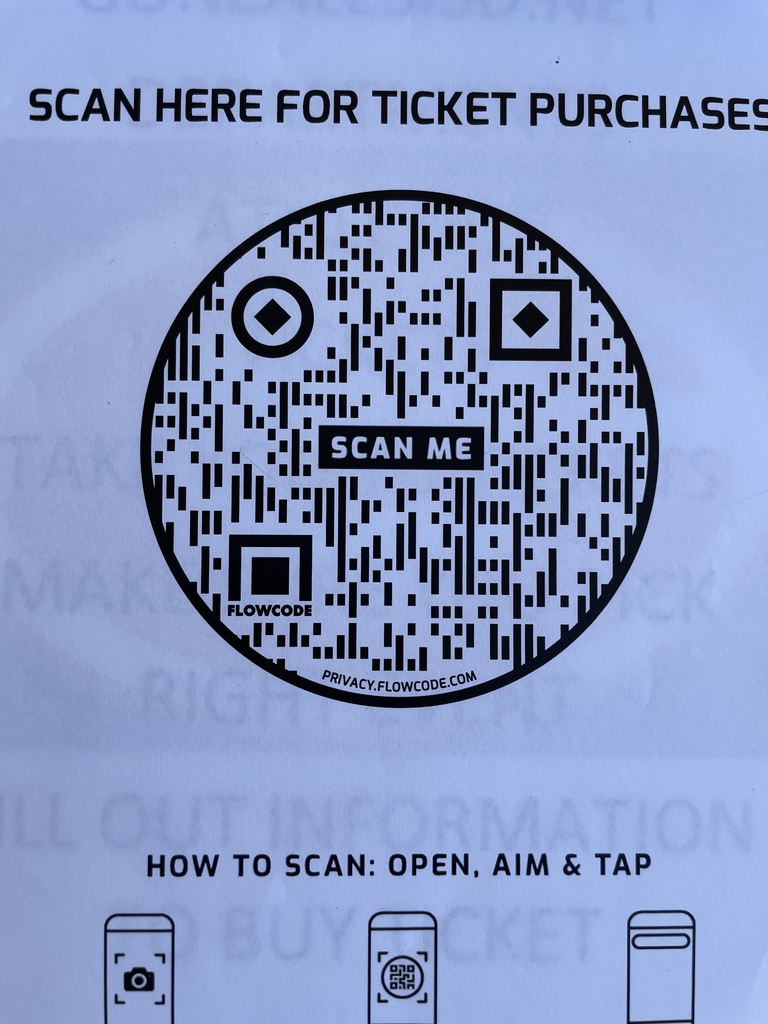 **** NOTICE OF EARLY DISMISSAL *** All GISD campuses will dismiss 2 hours early on Friday, October 15, 2021. *** Due to a shortage of bus drivers, an early dismissal is necessary to provide for the transportation of all participants to the varsity football game in Cuero. *** Dismissal times are: GES-1:15; GIS-1:20; GMS-1:25; GHS-1:35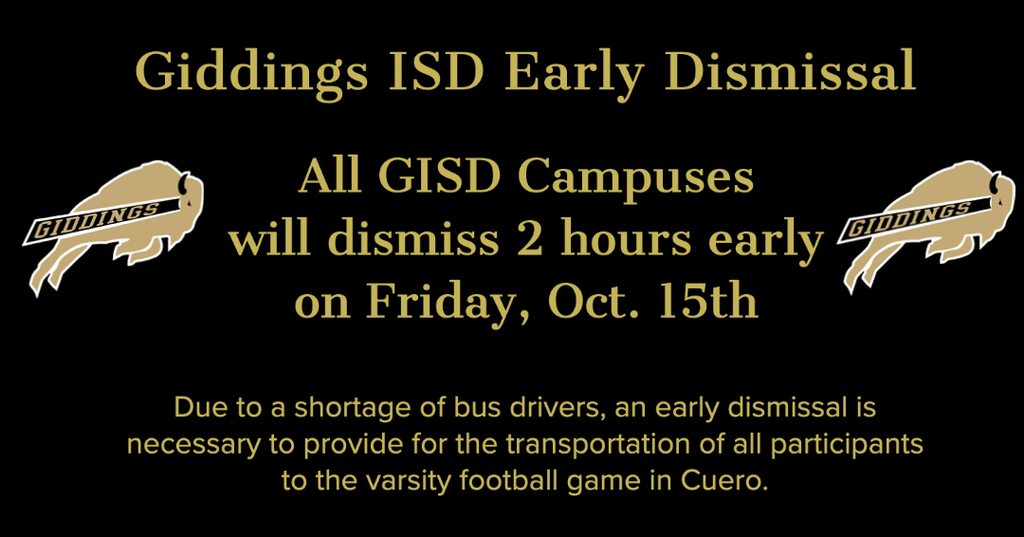 The start times for the home volleyball games against Smithville (Friday, Oct. 1) have been changed, with the freshman and JV teams starting at 5 pm, and the varsity match starting at 6 pm.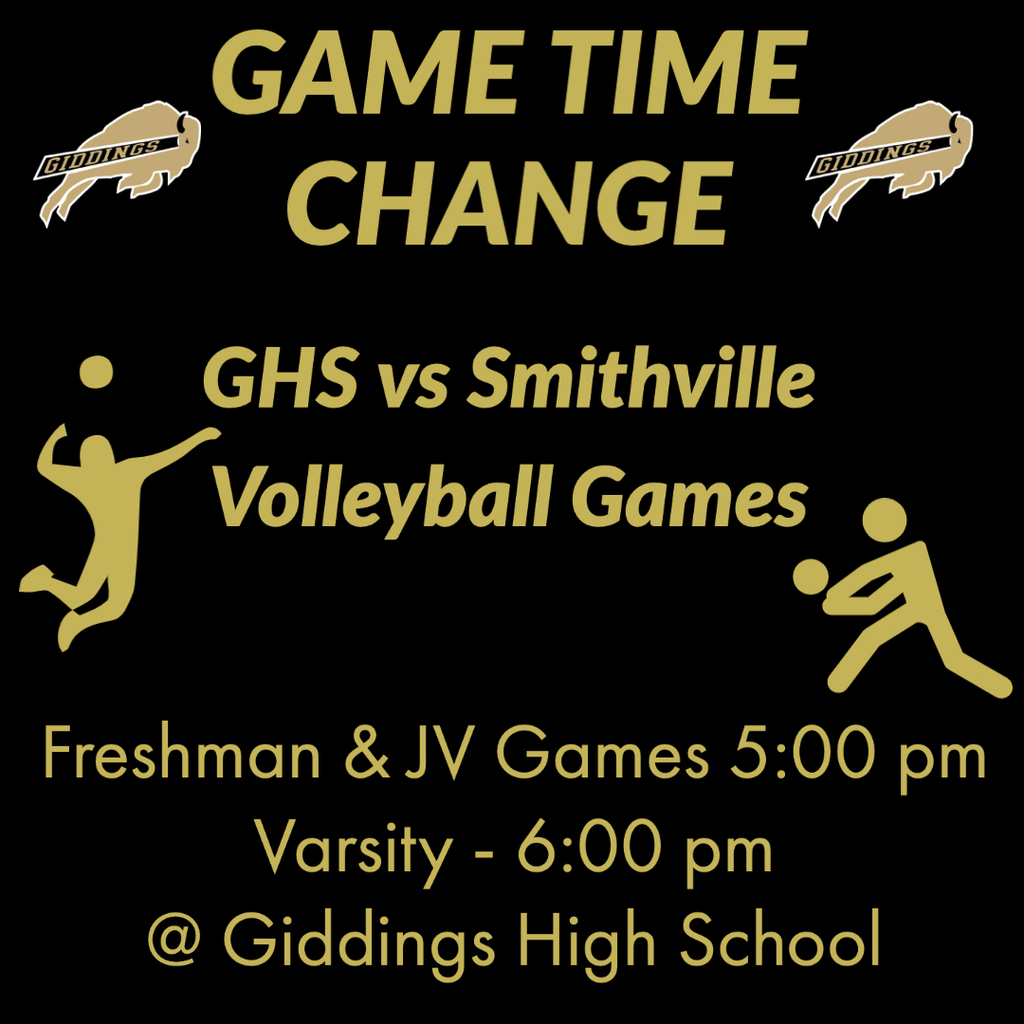 REMINDER TO GMS / GHS PARENTS Regarding participation in UIL activities (sports, band) after COVID Diagnosis Although a student may return to school after the appropriate conditions have been met for time of exclusion, UIL rules state "a student who has been diagnosed with COVID-19 must receive clearance from a physician, or a physician-approved delegate prior to returning to participation in UIL marching band or athletic activities." A special form is available from your child's coach or band director. It must be completed by a physician and returned to the coach or band director before participation (practice or play) can resume. The "COVID-19 Return To Play" form can also be found here:
https://5il.co/zfhr

Tonight is Family Impact Night! Giddings ISD encourages families to foster, re-establish, or even strengthen relationships in the household. The district has set aside one night per month (3rd Wednesday) in which all students in every grade level will not be assigned homework. Read more here:
https://www.giddings.txed.net/article/536379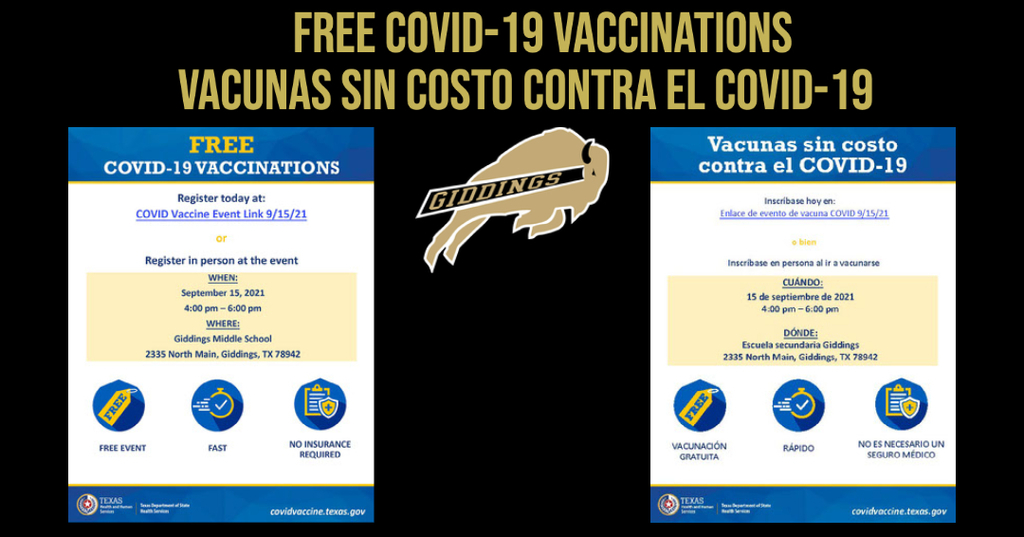 The 2021 GHS Homecoming Queen is Zoe Hernandez. She was escorted by her mother, Yesenia Montoya.

This is a general reminder of expected conduct at Buffalo Stadium. Please review the Code Of Conduct here:
https://5il.co/yrdu
Key points include: 1)All students not seated with their parents must sit in the student section. 2) Students are not be allowed to run in the stands or congregate under the stands or anywhere else. 3) Parents are not allowed to drop off a child under the age of 12, to the football game.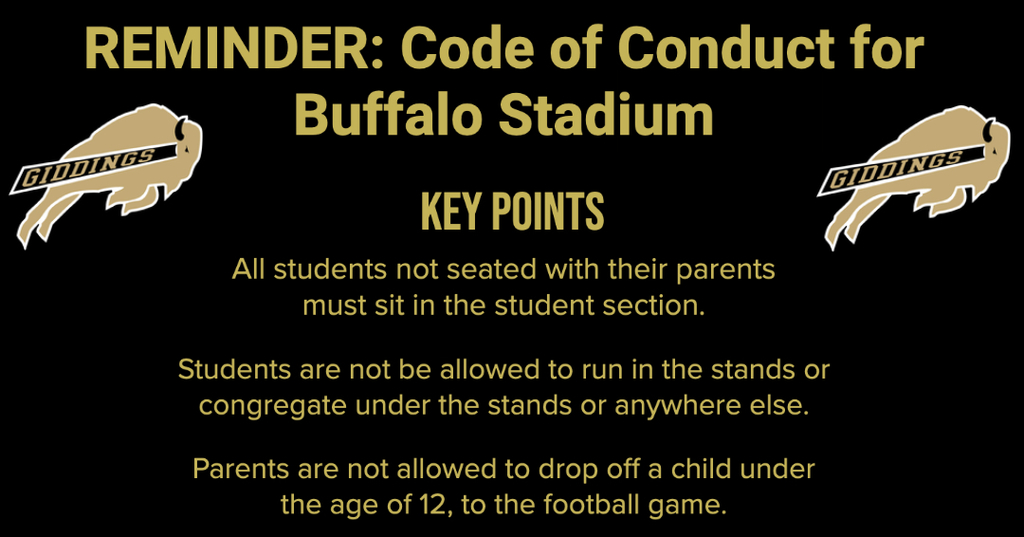 Pre-Game Meal -- Black History Club Fundraiser - Friday, Sept. 10 - Homecoming - Buffs vs Taylor -- $10 for Fried Pork Chops, Green Beans, Mashed Potatoes, Bread and Tea. To-go or Dine-In @ GHS Cafeteria 4:30 PM - 7:00 PM. Tickets available from any GHS Black History Club member, or contact David McDowell @ (979) 542-3351/ Email:
david.mcdowell@giddings.txed.net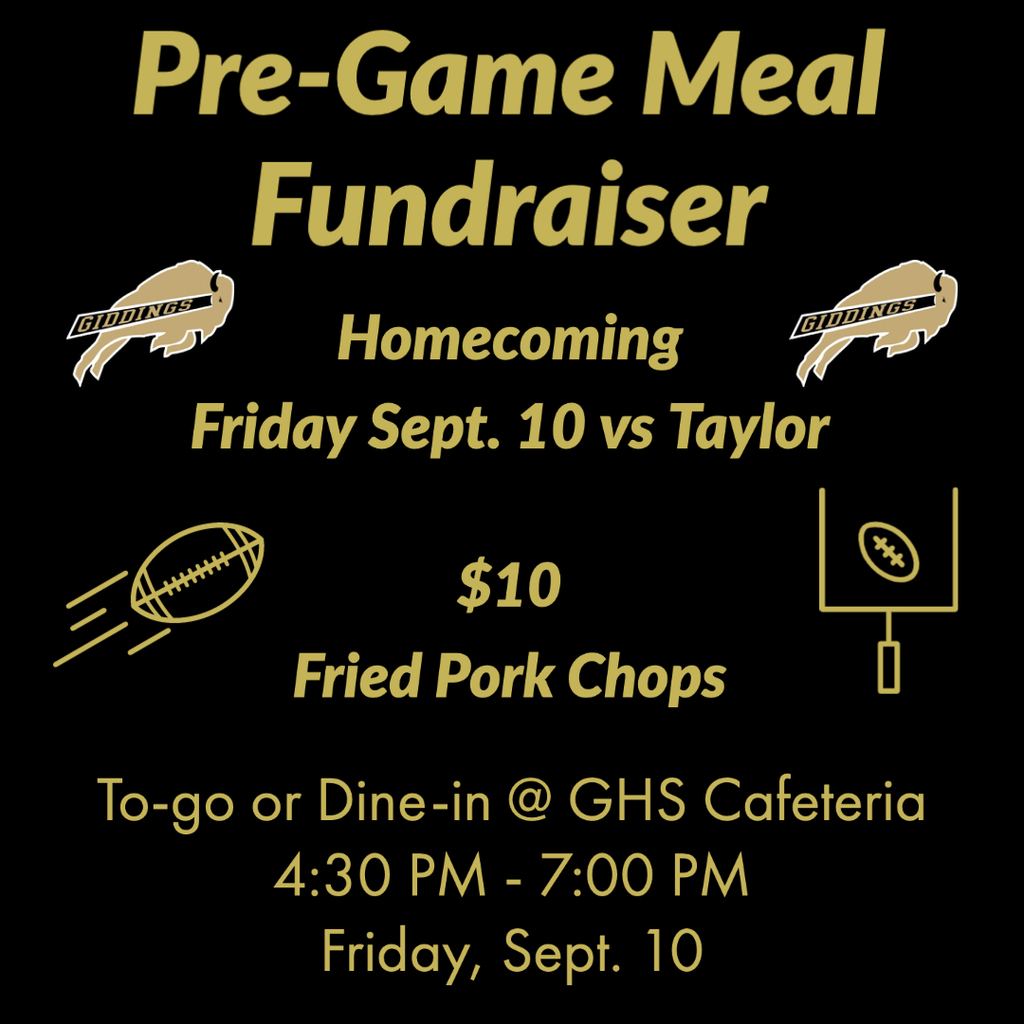 GISD would like to remind parents of the following: 1) Please continue to monitor your child for symptoms of illness. 2) If your child has any symptoms, please DO NOT put them on a bus, or drop them off at school. 3) If you would like to have your child tested, please call your campus nurse to arrange a time for a free test. Nurses will meet you in the parking lot to administer the test.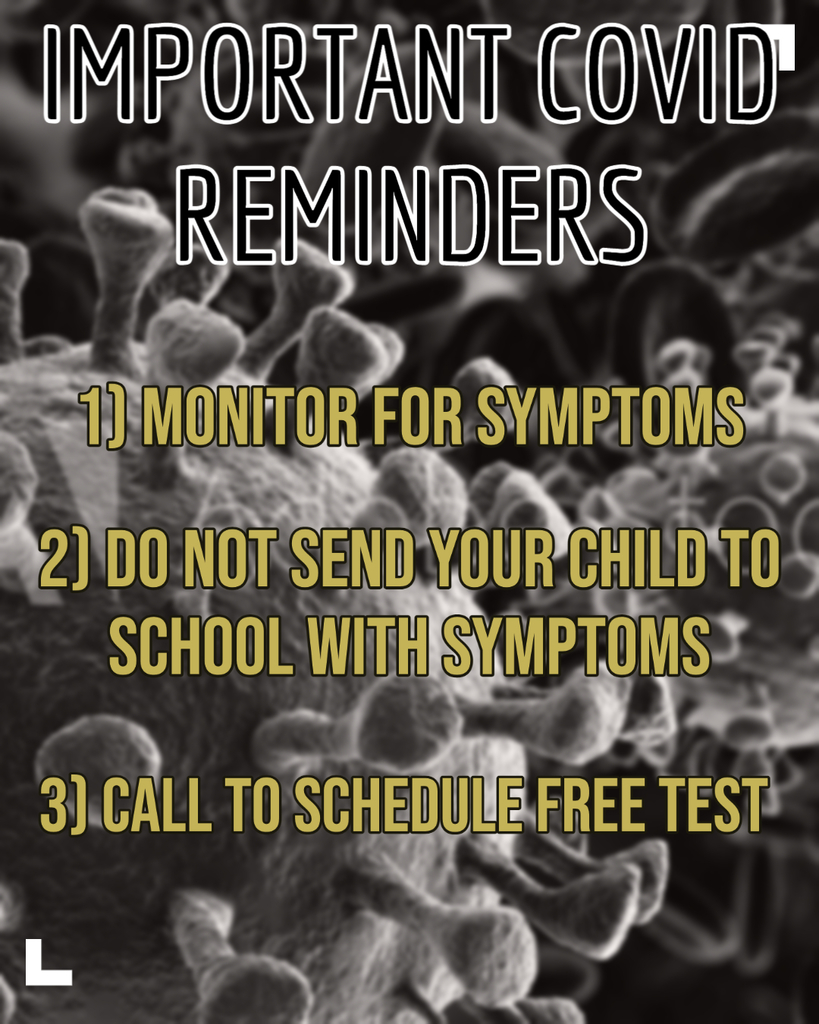 Pre-Game Meal Student Council Fundraiser Friday, Sept. 3 Home Opener - Buffaloes vs. Columbus $10.00 for BBQ pork steak, noodles, green beans, bread & water To-go or Dine-in @ GHS Cafeteria 4:30 PM - 7:00 PM Tickets available from any GHS Student Council Member Or Contact Shelly Kylberg (
michelle.kylberg@giddings.txed.net
) or Ami Fromme (
ami.fromme@giddings.txed.net
)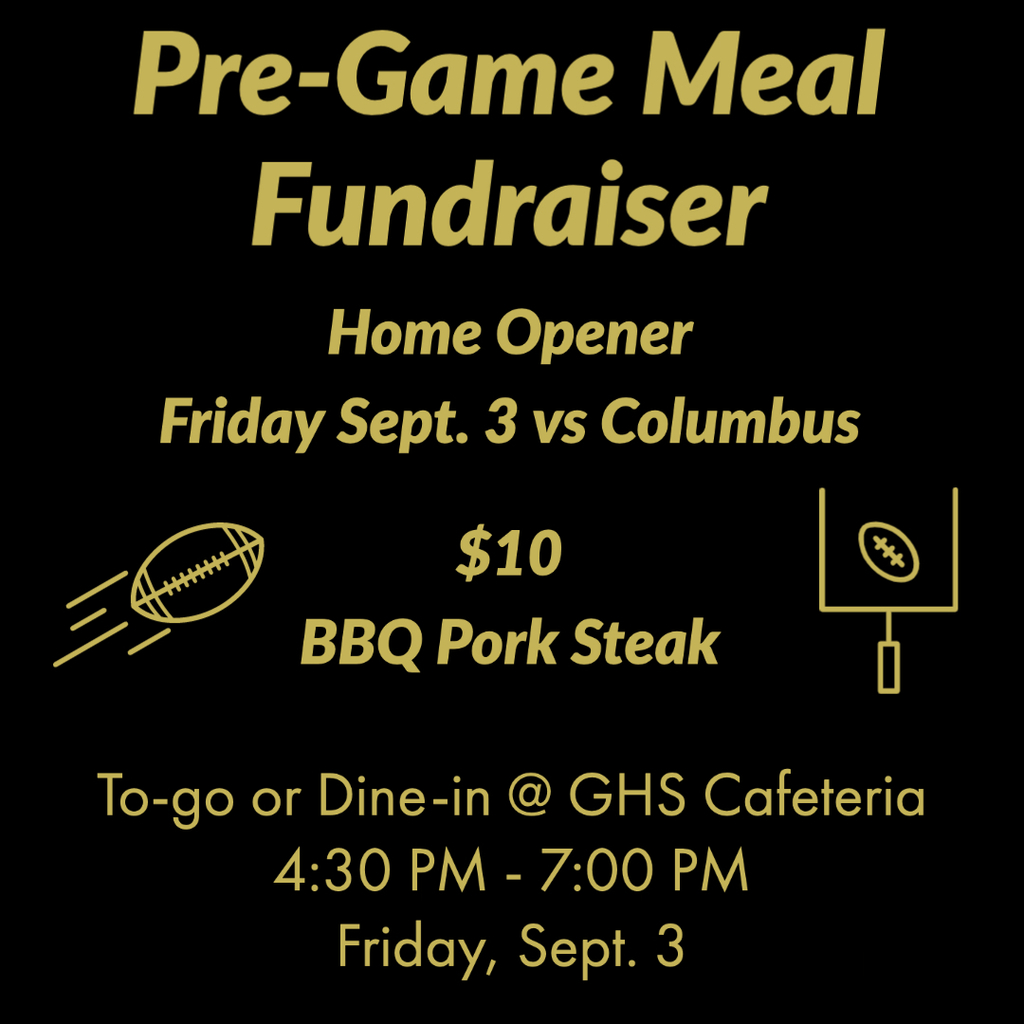 GISD will be providing an opportunity for eligible students, staff, and community members to receive the COVID vaccination if they so choose. It is not mandatory but simply being made available in what we hope is at a convenient time and location. The Texas Department of State Health Services will be providing the vaccination. It is free to any student or staff that is interested. Students will need parent permission to participate in the vaccination clinic. Please complete the following anonymous survey so that the Texas Department of State Health Services will know how to proceed in preparing for the vaccination clinic.
https://forms.gle/BjZfkaoAhNXPCoiG8

**Meet the Buffs event on Monday** This year's "Meet the Buffs" event will be held at Buffalo Stadium on Monday, Aug. 23 at 7:30 p.m. All Giddings football, volleyball and cross country athletes in grades 7-12 will be introduced to the public, along with band members, cheerleaders and Buffalo Gals. The Giddings Athletic Booster Club will open the concession stand at 7:00 p.m. to provide drinks and snacks during the event. A selection of T-shirts will also be available for purchase. Kids from kindergarten to 6th grade can sign up for the Buffalo Stampede. For a $15 registration fee, children will receive a T-shirt and will have the privilege of running out of the Buffalo helmet before every home game.