Announcement Regarding Curbside Meal Distribution: Due to the weather delay, curbside meal distribution will be postponed until tomorrow, Tuesday, January 12. The time will remain the same: 8:45am to 10:00am. If you have any questions, please contact Erin Hosein, Director of Dining Services, 979.542.2854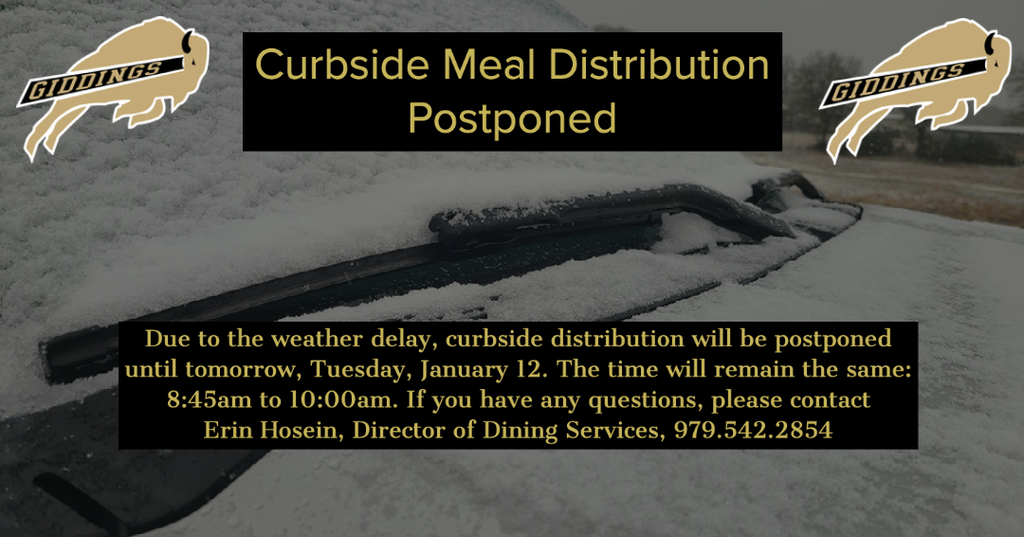 After a final check of the road conditions this morning, GISD administration officials have decided to maintain the two-hour delay for the school day. All campuses will be open two hours later than normal. All buses will run 2 hours later.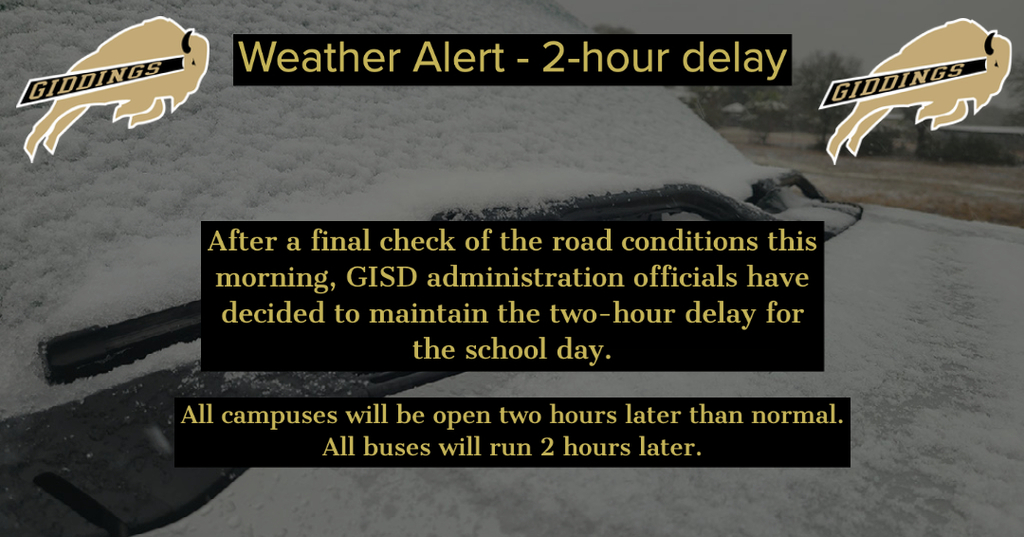 Weather Alert -- 2 Hour Delay After assessing the current weather conditions, it is out of an abundance of caution that GISD administration officials have decided to delay the start of school by 2 hours tomorrow, Monday, January 11. Although conditions appear to be favorable for the delay, administration officials will continue to monitor the situation throughout the night. Should it become necessary to cancel classes for Monday, the announcement will be made no later than 7am on Monday.

Giddings ISD administrators are closely monitoring the developing weather situation and will make a final decision at 5pm regarding classes on Monday.

NEW LOOK!! -- The GISD & campus websites will have a new look later this morning as the system receives an upgrade. The changes will occur at 10 am today, Thursday, Jan. 7. Although your browser may indicate "privacy warnings" as security certificates are updated, the site should be fully functional. #GoBuffs!

The GMS Girls Basketball games against Smithville tonight have been canceled.

Season's Eatings from Giddings ISD Dining Services! Giddings ISD's last curbside meal distribution for the semester will be Monday, Dec. 14th. We will resume curbside distribution in 2021 on Tuesday, Jan. 5th. We hope everyone has a safe and happy holiday break!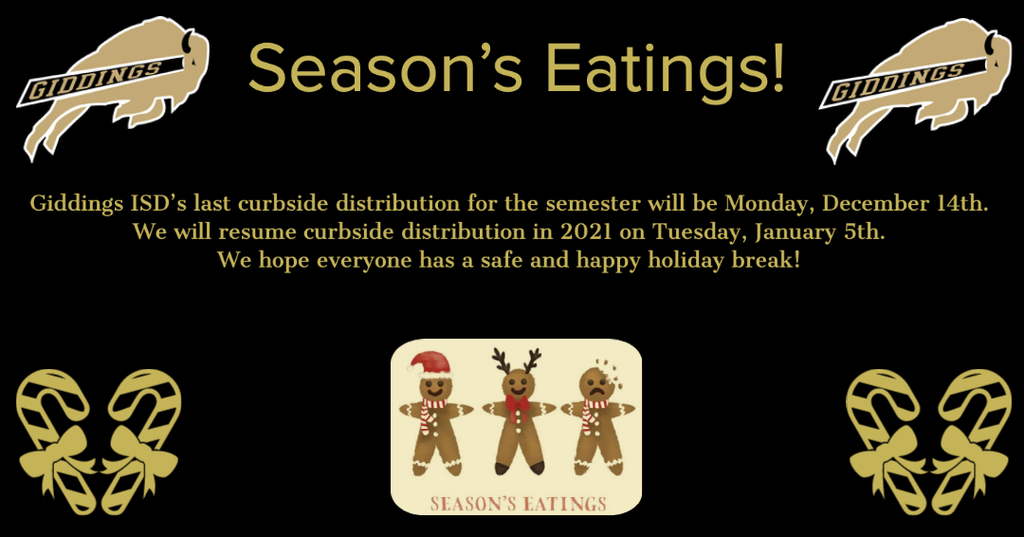 GMS BASKETBALL -- NO GAMES TODAY Giddings Middle School Buff and Lady Buff Basketball games against Bellville scheduled for today (Monday, Nov. 30, 2020) have been rescheduled. The games have been moved to Thursday, December 3, 2020. The GMS Lady Buffs will play at home at 4:30pm. The GMS Buffs will play at Bellville at 4:30pm. ***** Please remember that masks MUST be worn at ALL times while at GMS facilities. Parents/guests must present an admission slip for each guest at the door. The admission slip holds a seat for the guest. Guests must still pay for admission at the door. We apologize for any inconvenience and appreciate your understanding and cooperation.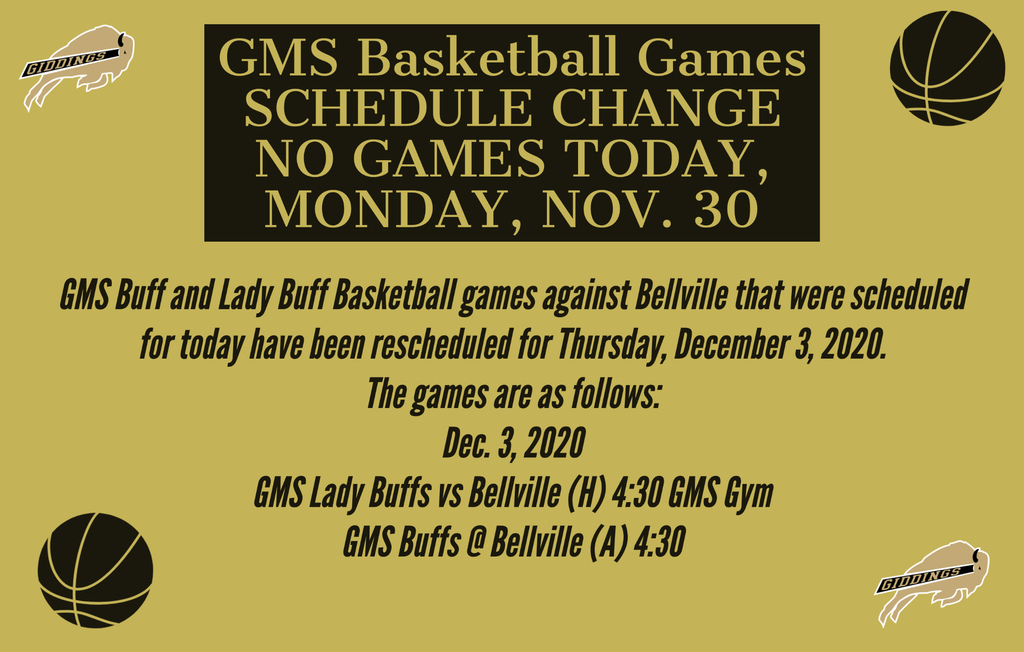 ATTENTION REMOTE LEARNERS -- If you are using a GISD WiFi hotspot, it will be deactivated TODAY (Friday, Nov. 20) at 2:00PM.  All GISD hotspots will be reactivated after the Thanksgiving break on Monday, Nov. 30 at 8:00AM.

NOTICE REGARDING GAME TIME -- KICKOFF IS 7:30PM -- Tickets for tonight's football playoff game incorrectly show a start time of 7pm. Kickoff is 7:30PM in Cuero. #GoBuffs

Tickets on sale now for Buffs Varsity Football vs Sinton this Friday night at Cuero - Gobbler Stadium. (pre-sale only, limited tickets available)
https://bit.ly/BuffsVsSinton


Tickets on sale now for Buffs Varsity Football vs Manor New Tech this THURSDAY night at Smithville Tiger Stadium. Pre-sale only, limited tickets available.
https://bit.ly/BuffsVsManor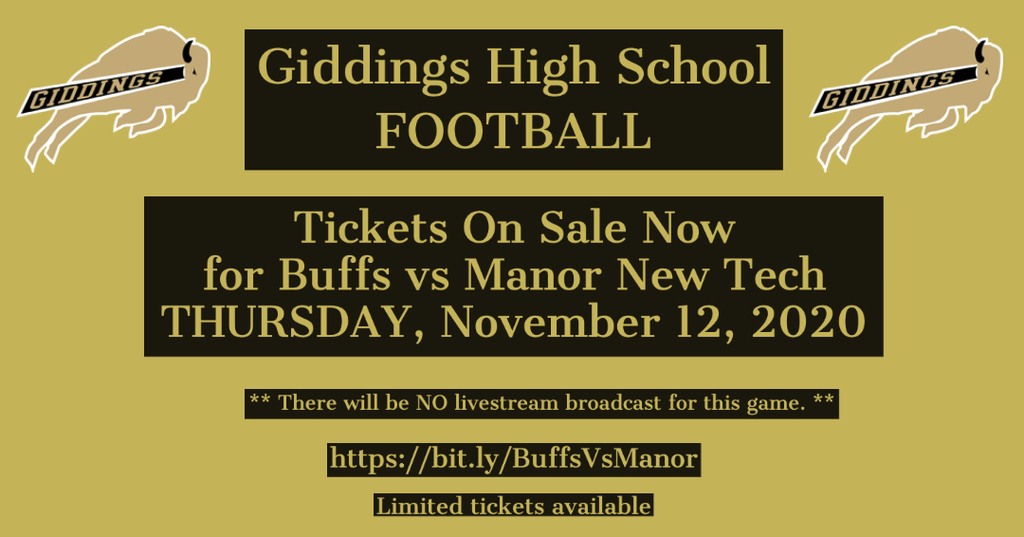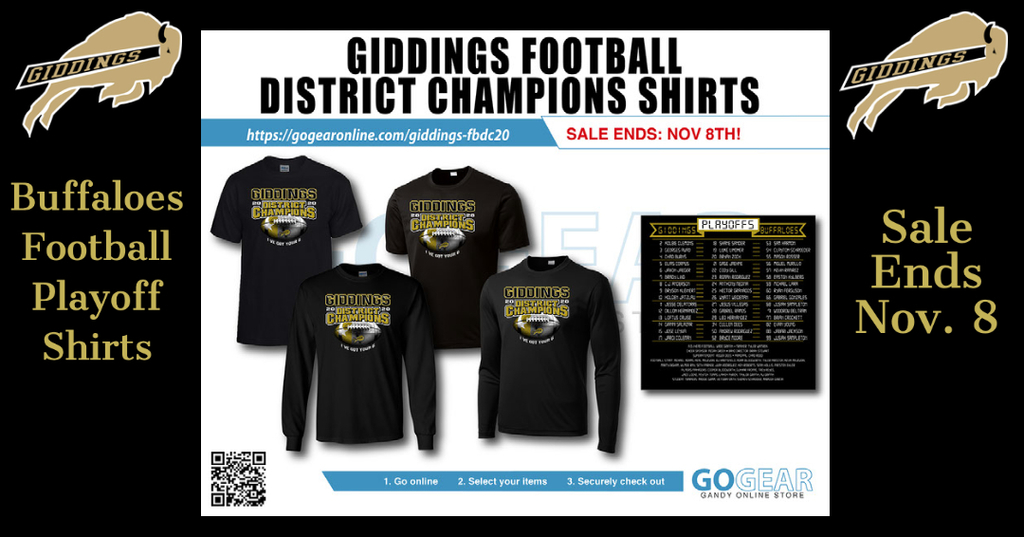 Tickets on sale now for Buffs Varsity Football vs Navasota this Friday night at Navasota Rattler Stadium. Pre-sale only, limited tickets available.
https://bit.ly/BuffsAtNavasota

The Lady Buffs will leave GHS at 4:20pm on Tuesday. They will drive through the 77/290 intersection and head for Navasota to take on Madisonville for the Area Championship. Help send them off to victory by gathering to cheer them on along Hwy 290. #GoBuffs

The GHS Lady Buffs will play for the Area Championship against Madisonville. The game will take place in Navasota on Tuesday, Nov. 3. The match starts at 7pm. Ticket sales (at the door only) will begin at 6pm. Giddings is the HOME team. The match will also be broadcast on 92.3 KNRG.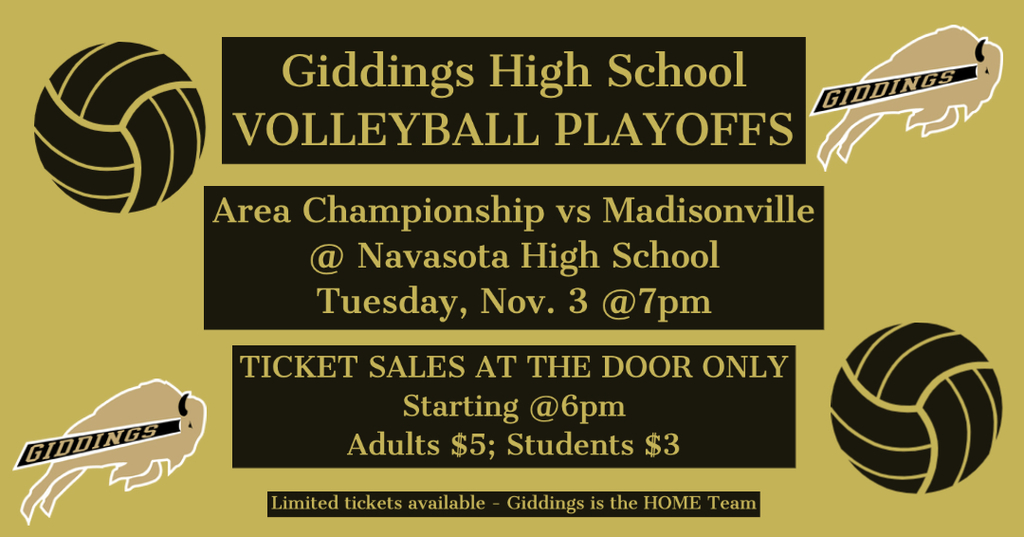 Giddings Varsity Football team defeats La Grange 31-7, extending their district record to 4-0.

This week, advance purchase of tickets is required for the Freshman Football game in La Grange tomorrow (Thursday). The link to purchase is:
https://bit.ly/FreshmanBuffsAtLG

Tickets on sale now for Buffs Varsity Football vs La Grange this Friday night at Buffalo Stadium. Pre-sale only, limited tickets available.
https://bit.ly/BuffsVsLaGrange