-- Weather Alert -- GISD Classes Cancelled -- Due to the severe weather and freezing conditions, GISD administration officials have decided to cancel all classes for Friday, February 4th. All classes will resume normal schedules on Monday, Feb. 7th. Be safe and stay warm!

** Weather Alert ** After assessing the developing weather conditions and out of an abundance of caution, GISD administration officials have decided to cancel all classes for Thursday, February 3rd. An announcement regarding any delay or cancellation for classes on Friday will be made Thursday evening. Be safe and Stay Warm!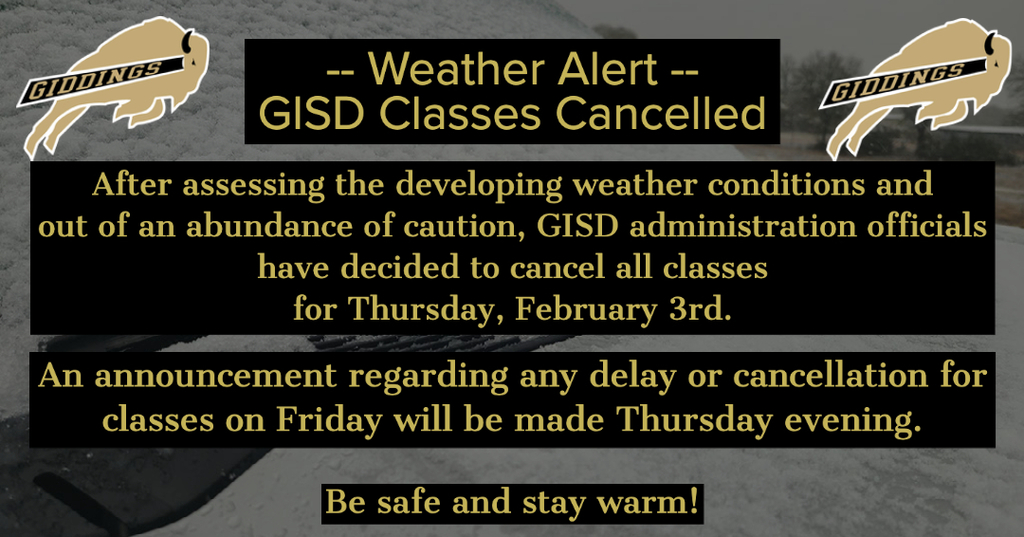 A report was made to the district regarding a possible threat. District administrators take all reports of this kind very seriously, and in coordination with the Giddings Police Department, we have conducted a comprehensive investigation. We found in this particular instance that there was no credible threat to the safety of our students or staff. We encourage members of the community, parents, and students to always be forthcoming with information that relates to any threat against students or staff. We will always take these threats very seriously and will always perform a complete investigation to the best of our ability. The safety of our students is always our number one priority.

IMPORTANT CHANGES to GISD COVID PROTOCOLS Please visit this link to review the updates to the Quarantine For Students section of the GISD Safe Return To School document:
https://bit.ly/UPDATE-20220125

GISD CLOSED ON FRIDAY, JAN. 14 All campuses in GISD will be closed on Friday, Jan. 14 due to a shortage of instructional staff. We are currently unable to safely and effectively deliver instruction with the available staff. Scheduled extracurricular activities are still planned for Friday and Saturday. Students will be notified by coaches or sponsors in case of any cancellations. Classes are currently planned to resume on Tuesday, Jan. 18. We urge parents and students to make wise choices and monitor their health over the holiday weekend.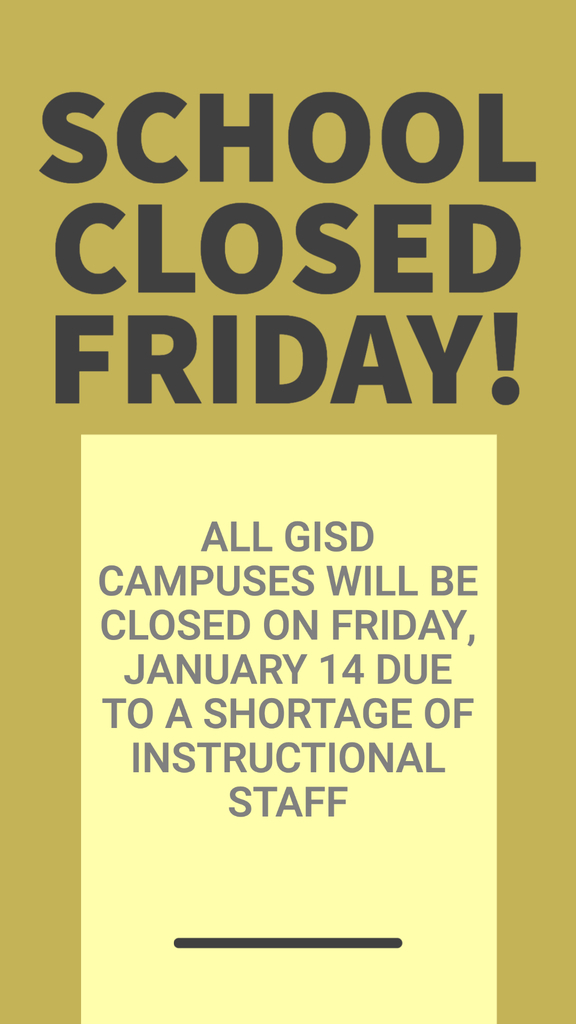 REMEMBER this Friday, Dec. 17th will mark the start of the Christmas/New Year break. All campuses will dismiss 2 hours early. Classes will resume on Tuesday, Jan. 4th. Have a safe and happy holiday season!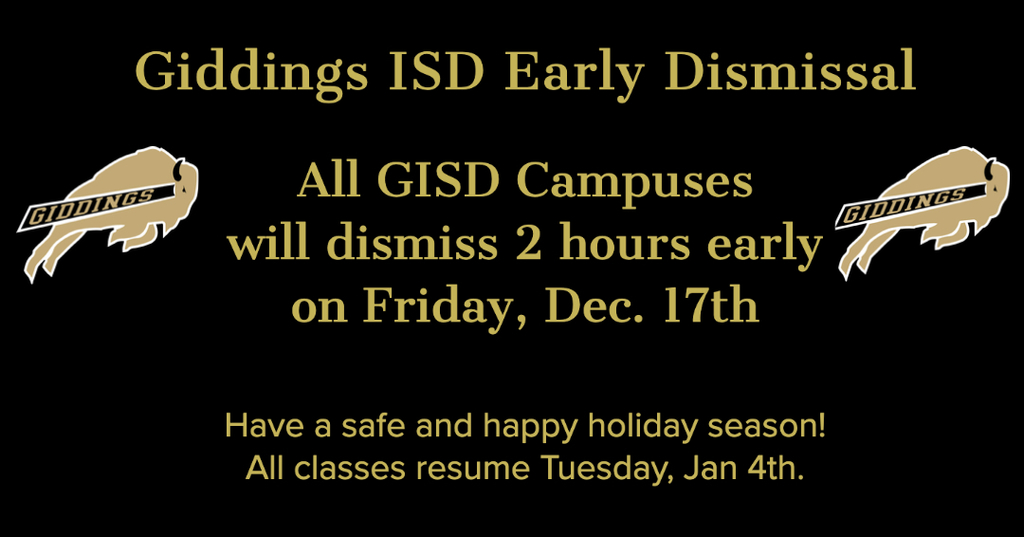 The GHS Lady Buffs basketball teams will open district play TONIGHT in La Grange. Tickets are online ONLY. Use this link to purchase:
https://bit.ly/LadyBuffsAtLG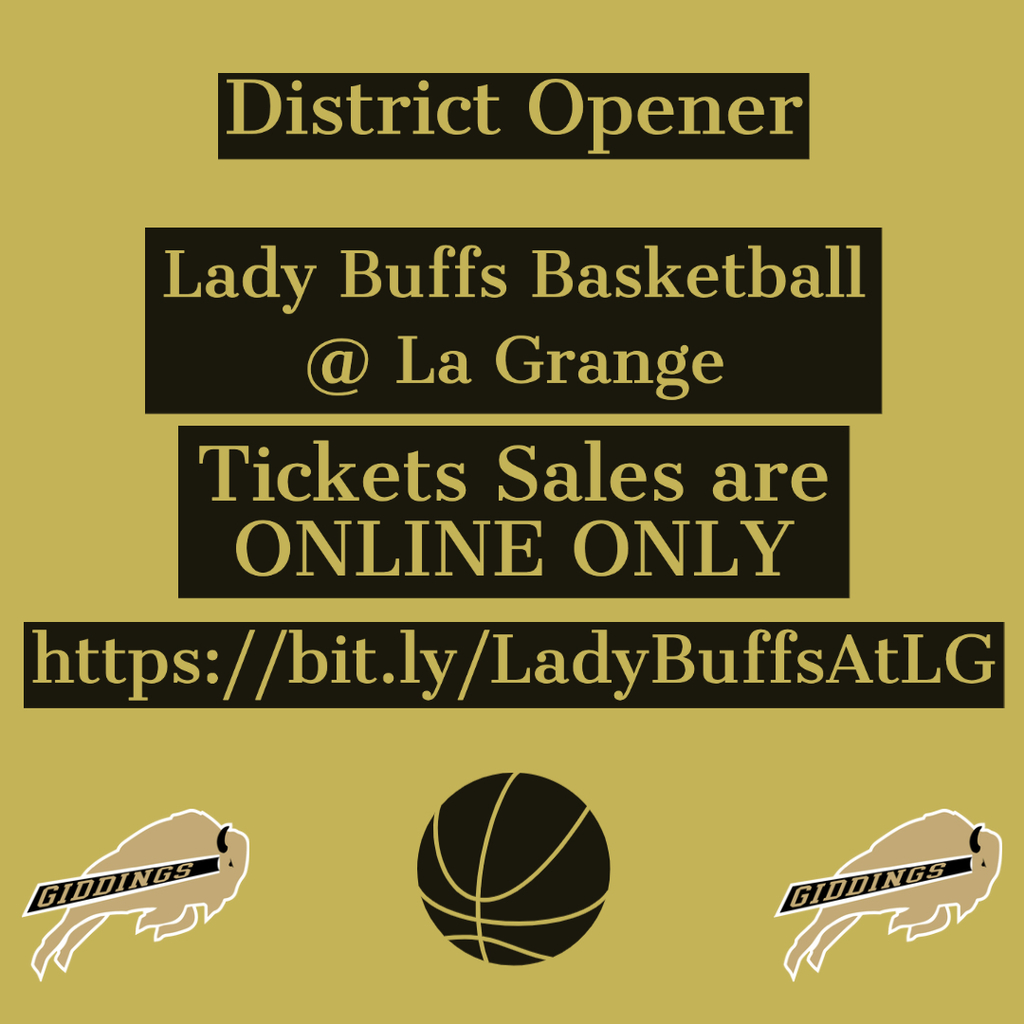 Giddings ISD is taking nominations for the Gifted and Talented program for the 2022-2023 school year. Parents, teachers, and community members may nominate students currently enrolled in Giddings ISD to participate in the screening process to determine eligibility for the gifted program. Nomination forms are available in the office on each Giddings ISD campus or online at the Giddings ISD website
https://www.giddingsisd.net/o/giddings-isd/browse/71453
. All nominations are due by the last school day in January to each campus office. Contact April Kuck at 979-542-2854 or email to
april.kuck@giddings.txed.net
if you would like additional information about the gifted and talented program.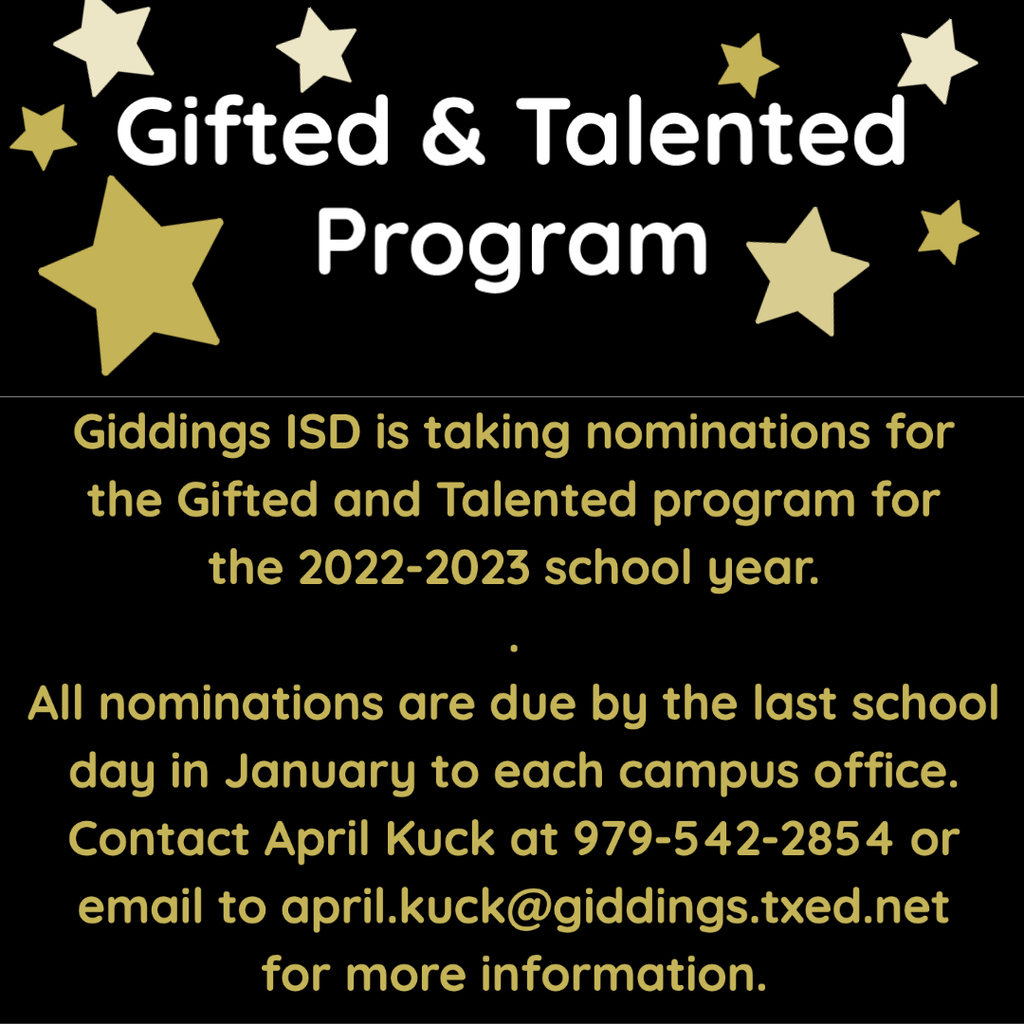 *** GHS Pre-Concert Dinner *** The GHS Chess Club is sponsoring a pre-concert meal fundraiser that will take place before the GISD band concert on Tuesday, Dec. 14. Plates are $10 and will be dine-in or to-go. Serving will be 4:30 pm to 6:30 pm. The main course will be schnitzel with onion-cream pepper gravy. Sides include spaetzle and glazed carrots. The salad will be marinated cucumber and tomato. Dessert, tea & water will be available. The meal will be prepared by Chef John Anderson of The Giddings Brewhaus. Tickets can be purchased in advance or at the door. Contact Mrs. Moore at GHS for more information. (979)542-3351 x2116, or (361)522-4130.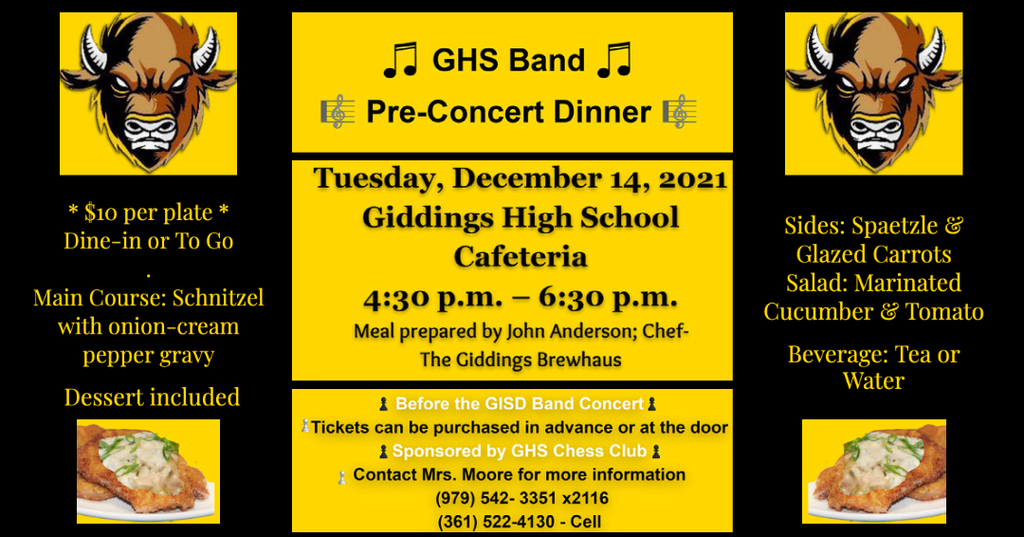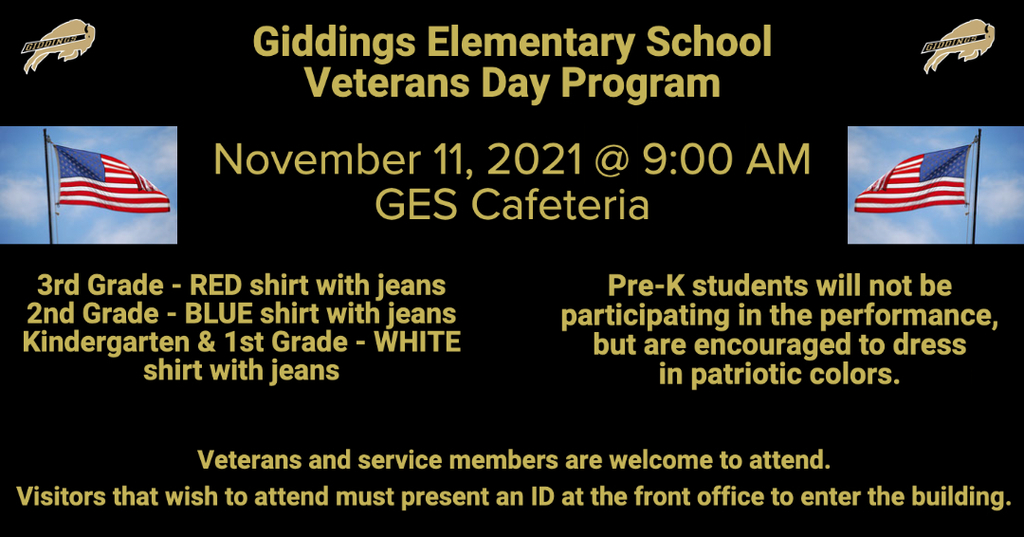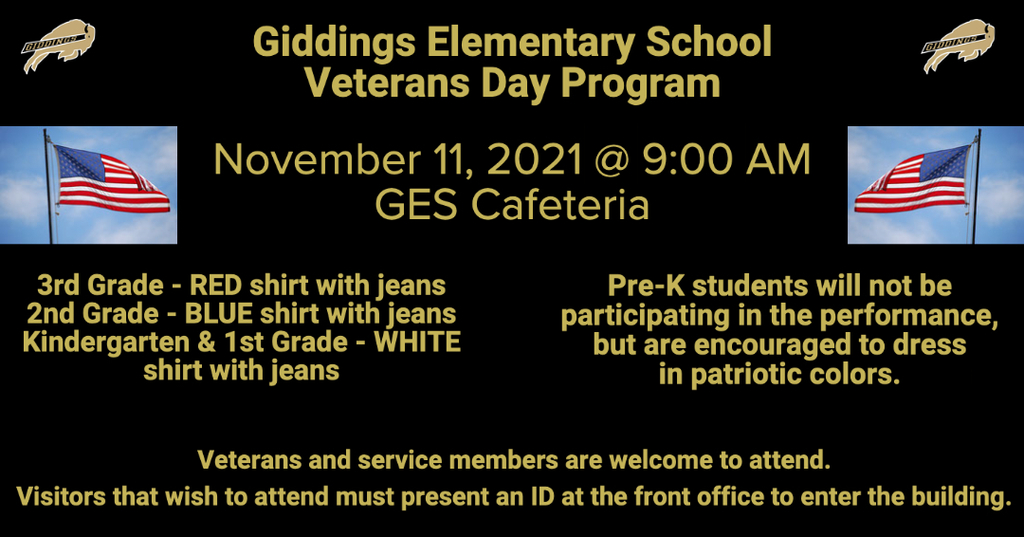 Due to the GHS Volleyball Playoff Game, Giddings Middle School Beta Club Induction has been moved from Tuesday, Nov. 9, 2021 to Thursday, Nov. 11, 2021 (same time and location). Good Luck Lady Buffs!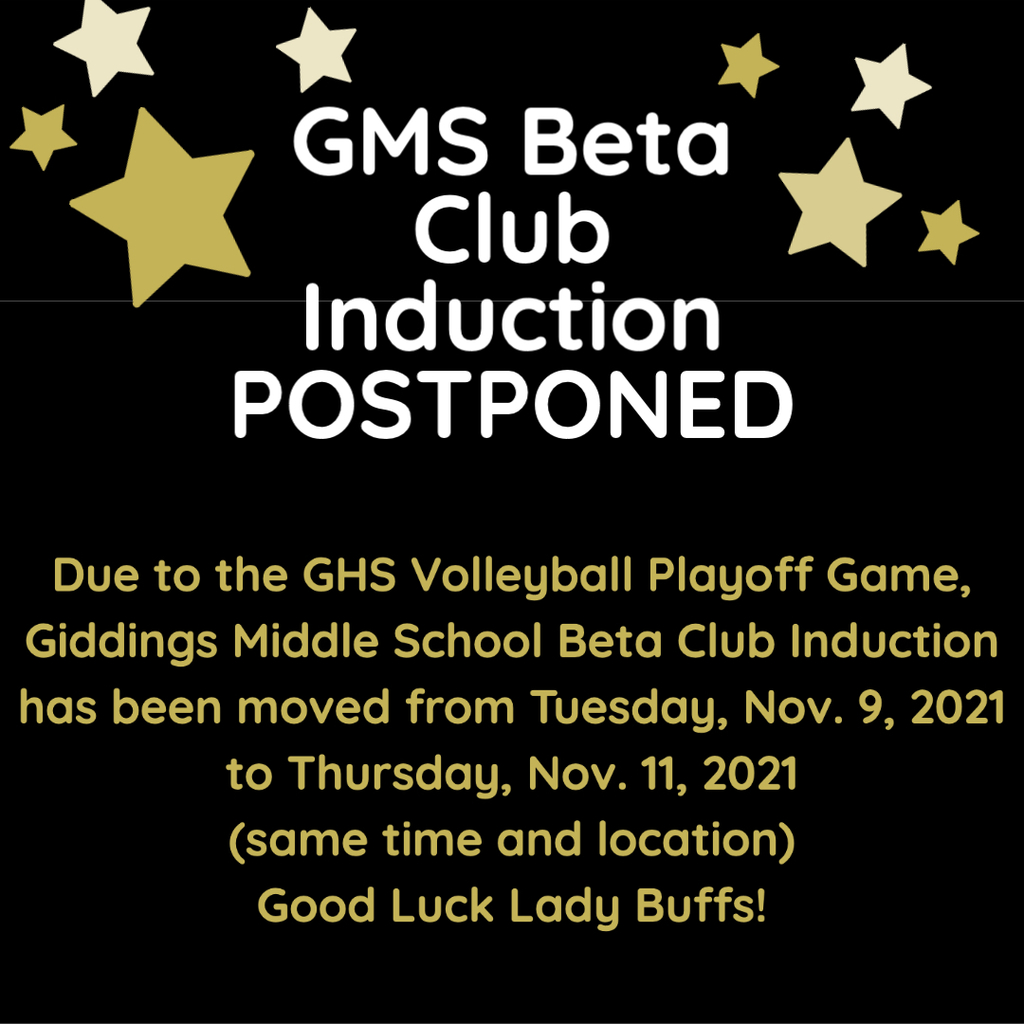 The GHS Lady Buffs will travel to Pflugerville - Weiss to play Burnet in the Regional Quarterfinal round of the UIL volleyball playoffs. The match is Tuesday, Nov. 9 at 6:30 pm. Tickets are $5 and $3 at the door or online at:
https://bit.ly/GHSvsBurnet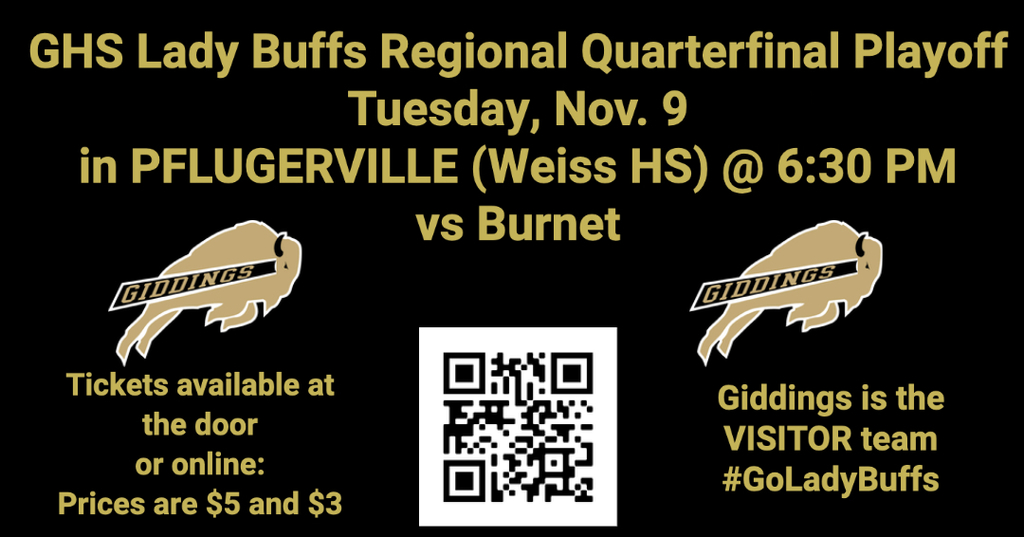 REMINDER!! -- Today's Pre-game meal fundraiser for Lady Buffs athletics is DRIVE THRU ONLY! (Friday, Nov. 5) The line will open at 4:30pm and remain open until 7pm. There are about 40 tickets left. They will be sold on a first-come-first-served basis. The hamburger meal is $10. #GoBuffs #GoLadyBuffs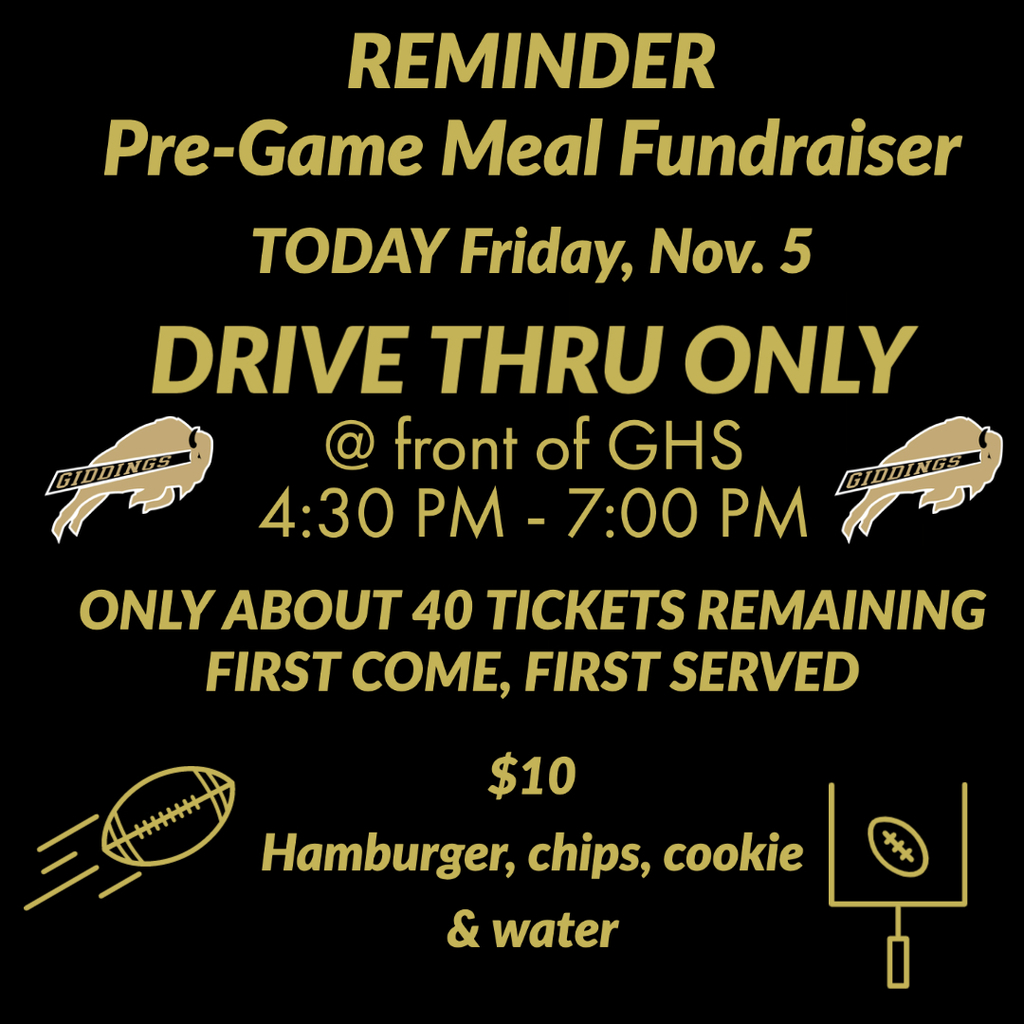 Help the Giddings High School Student Council honor local heroes! Sponsor a wreath today to be placed on a veteran's grave this December at the City of Giddings Cemetery. Just scan the QR code with your smart phone camera to make a donation online or visit
www.wreathsacrossamerica.org/TX0954
. The Due date for ordering wreaths is Monday, November 29, 2021. Wreaths will be placed December 16 & 18, 2021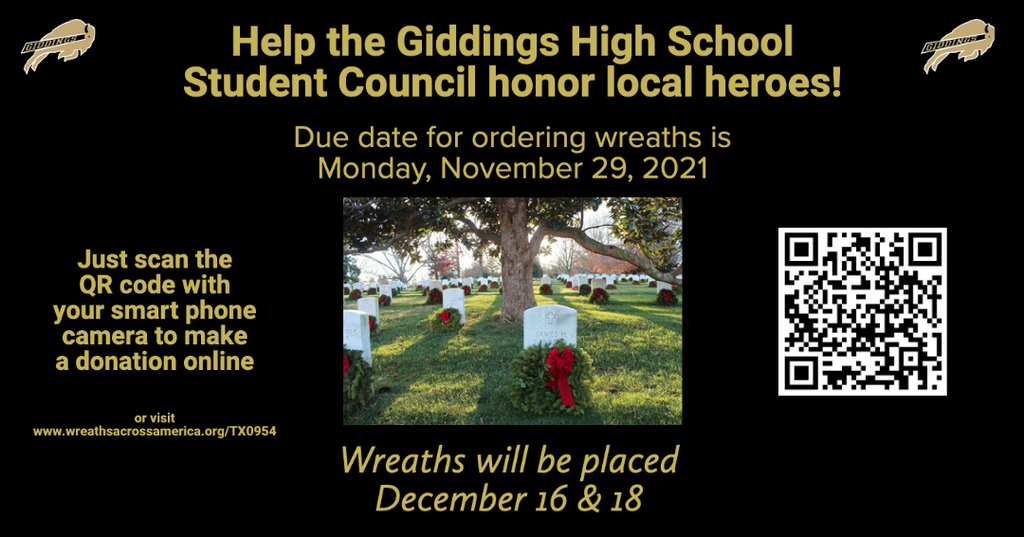 The GHS Lady Buffs Varsity Volleyball team advanced to the Area round of the playoffs. They will play the match in Navasota on Thursday, Nov. 4 at 6:30 pm against Madisonville. Giddings is the Home team. Tickets will be available at the door for $5 and $3. #GoBuffs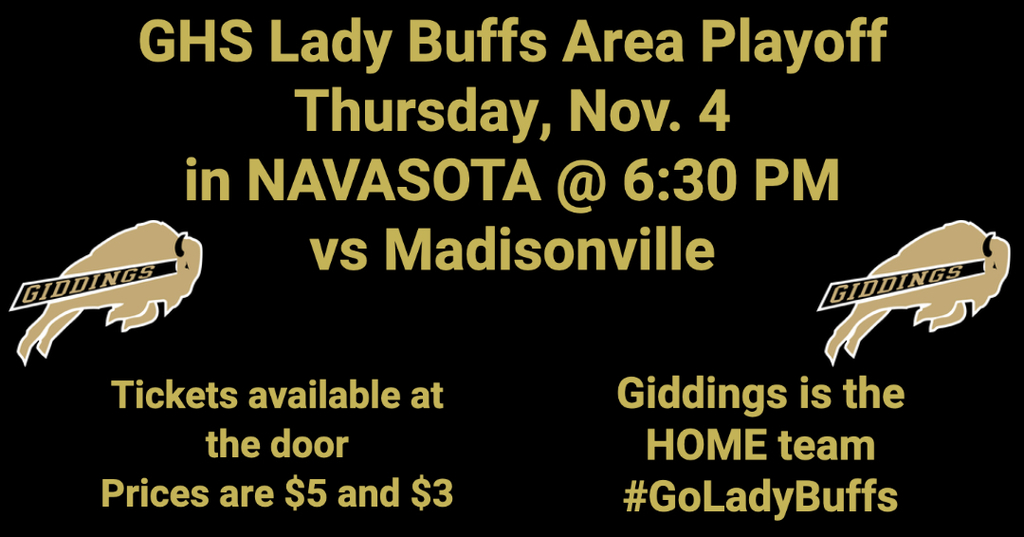 The GHS Lady Buffs volleyball team will travel to TAYLOR for a Bi-District playoff game against Gateway Prep. The match is tomorrow, Tuesday, Nov. 2 at 6:30 pm. Giddings is the HOME team. Purchase tickets online:
https://bit.ly/GHS-BiDistrictPlayoff

The playoff game for top seed between Co-District Champions Giddings Lady Buffs and La Grange Lady Leopards will be played in Smithville tonight, Friday, Oct 29, at 5:00pm. Giddings is the HOME team. Tickets must be purchased online here:
https://bit.ly/VB-Playoff-GHS-LGHS