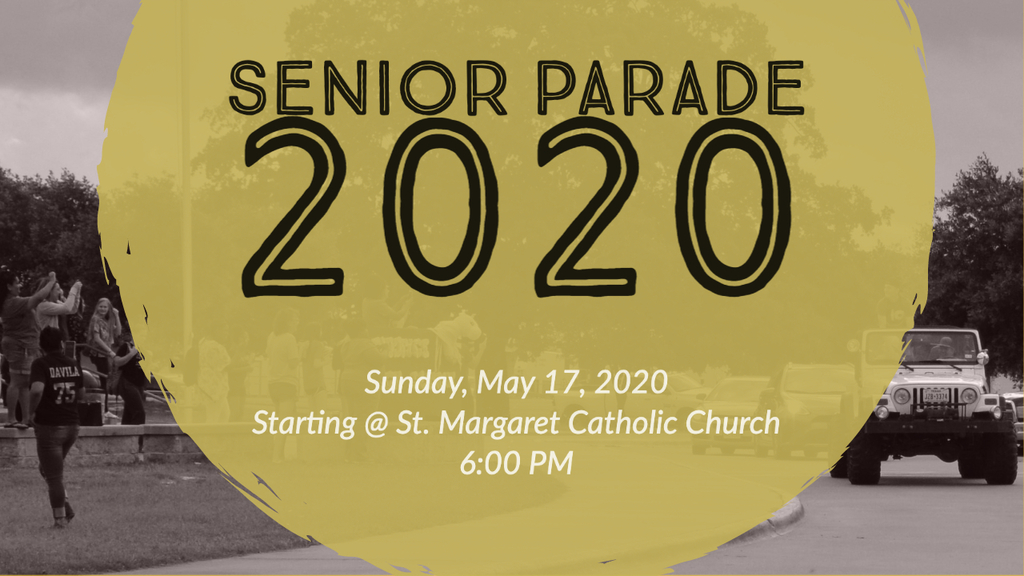 Giddings Elementary Final Drive-Thru Thursday, May 21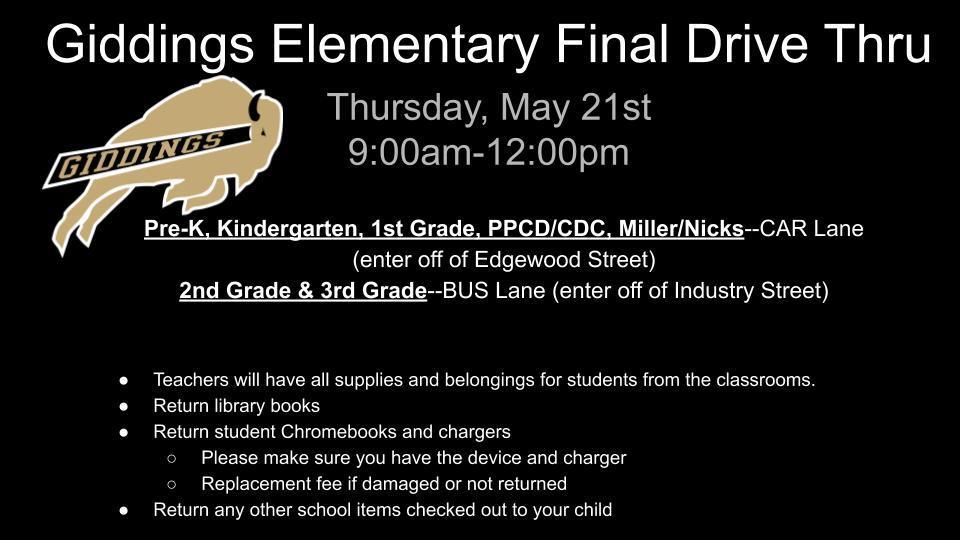 PACKET PICKUP TOMORROW - MEALS NEXT WEEK -- Because of the sever weather today, all GISD campuses will have a packet pickup tomorrow, Wednesday, May 13, from 11:00a to 12:30p for parents and students to pick up work packets, return work, and return textbooks & library books.

MEAL SERVICE NOW CANCELLED -- Due to the continuation of Severe Weather Warnings, we have decided to discontinue the meal pickup immediately. Stay Safe!

MEAL PICKUP EXTENDED TO 12:30. Packet pickup cancelled for today. Continue to monitor website and social media for possible re-scheduling for later in the week.

PACKET & MEAL PICKUP SUSPENDED DUE TO TORNADO WARNING! Services to resume when warning expires unless it extends past noon.

Giddings ISD would like to thank Hal Bowman for the motivational words he recently shared with our faculty and staff. We would like to share his message and words of encouragement with the entire GISD community in the hope that you might also find nuggets of wisdom in his message that will encourage you during this challenging time in our lives. Hal reminds us "The greater the challenge, the greater the lesson." Thank you Hal for your message, and thank you to the families of GISD for your support in helping us in our mission to educate your children. Watch here:
https://bit.ly/BowmanMessage

This Friday, April 10 and Monday, April 13 are scheduled as school holidays. There will be no food service on those days. Distribution will resume again on Tuesday, April 14.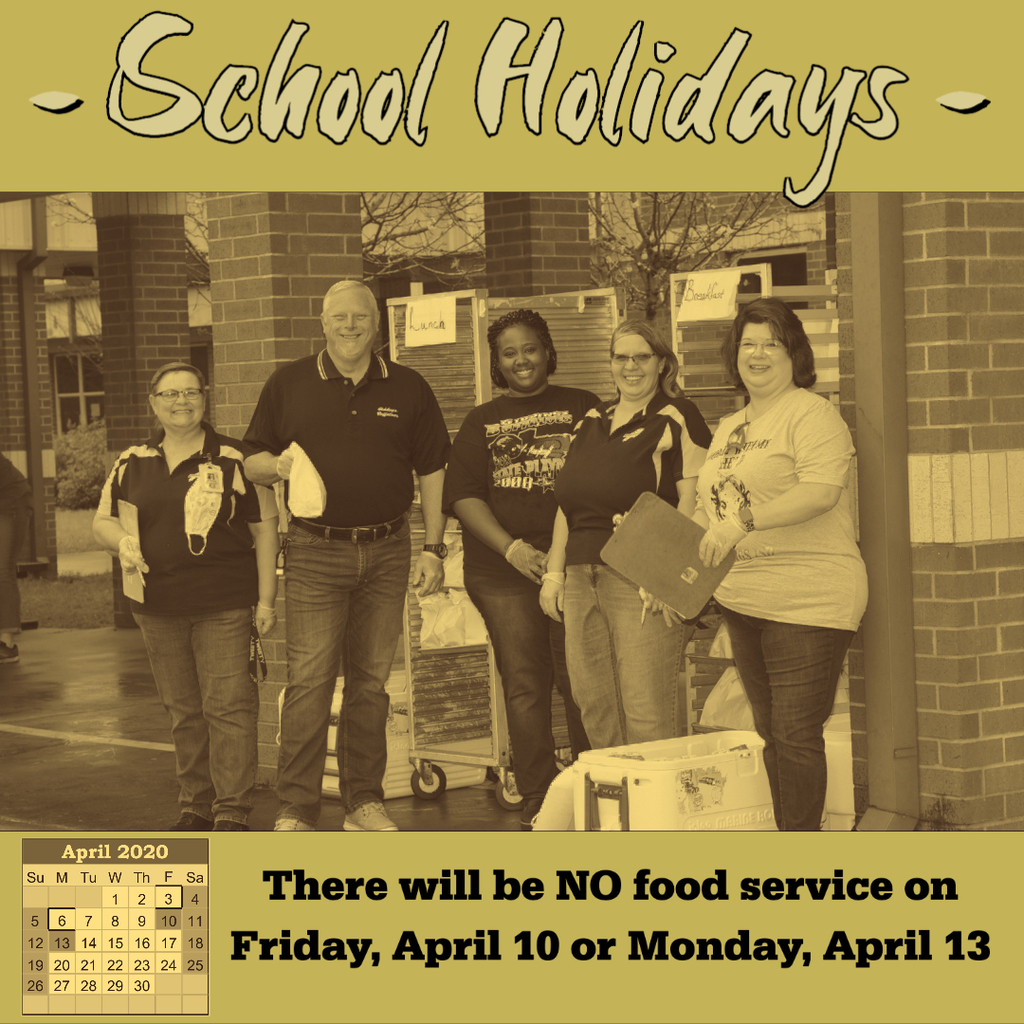 For GHS athletes retrieving personal belongings from their lockers this morning, please enter the north side doors by the gyms. GMS athletes should enter at the courtyard door.

All GMS & GHS Athletes will be allowed access to their respective locker rooms from 10am until noon on Wednesday, March 25, in order to remove belongings.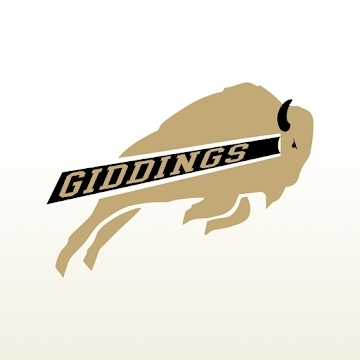 ALL GMS BAND Students: Please sign up for REMIND notifications! All 6th grade band students follow these instructions:
https://5il.co/dzca
All 7th & 8th students follow these instructions:
https://5il.co/dzc9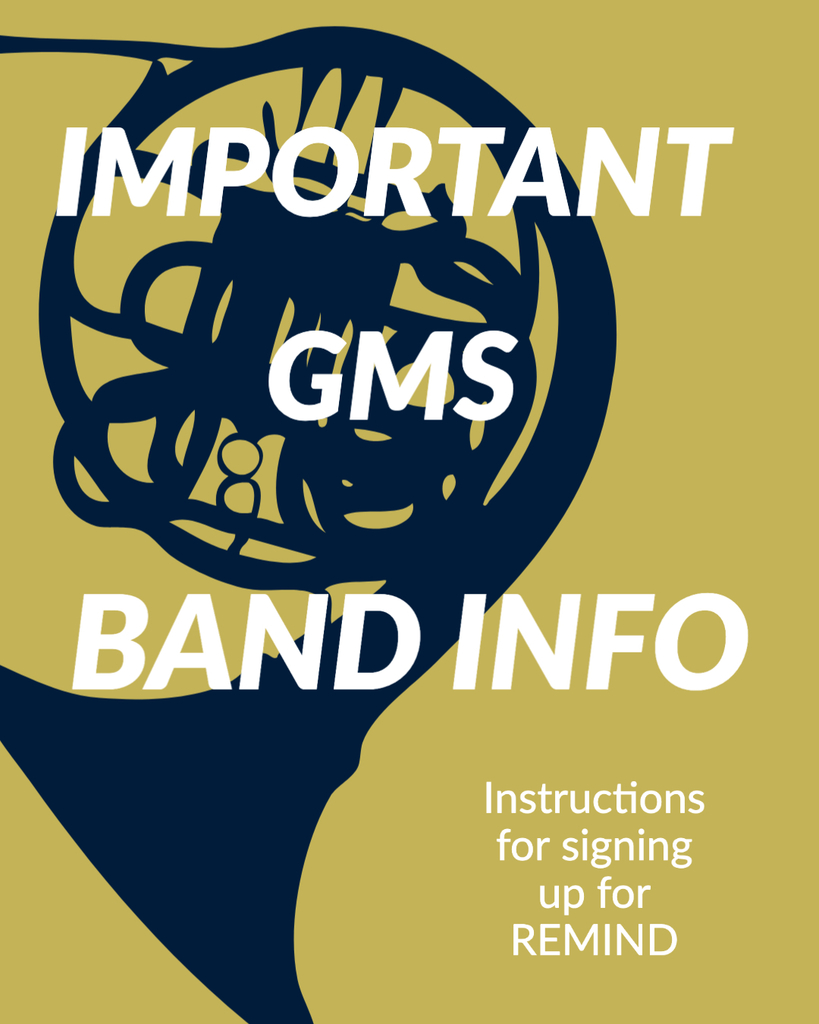 Good afternoon. Giddings Independent School District has announced that all facilities will be closed to everyone other than essential staff until further notice. All GISD campuses will be providing home based lessons for students. Teachers are busy preparing those lessons this week. Details on how to access those lessons will be provided at a later time. Meal service for students will begin on Monday, March 23. Drive-thru pick-up will be available at the Giddings Elementary School at the north side bus lane from 9am through noon Monday through Friday. Per Texas Department of Agriculture guidelines, children receiving meals must be present in the vehicle. More details of meal service are available on the GISD website.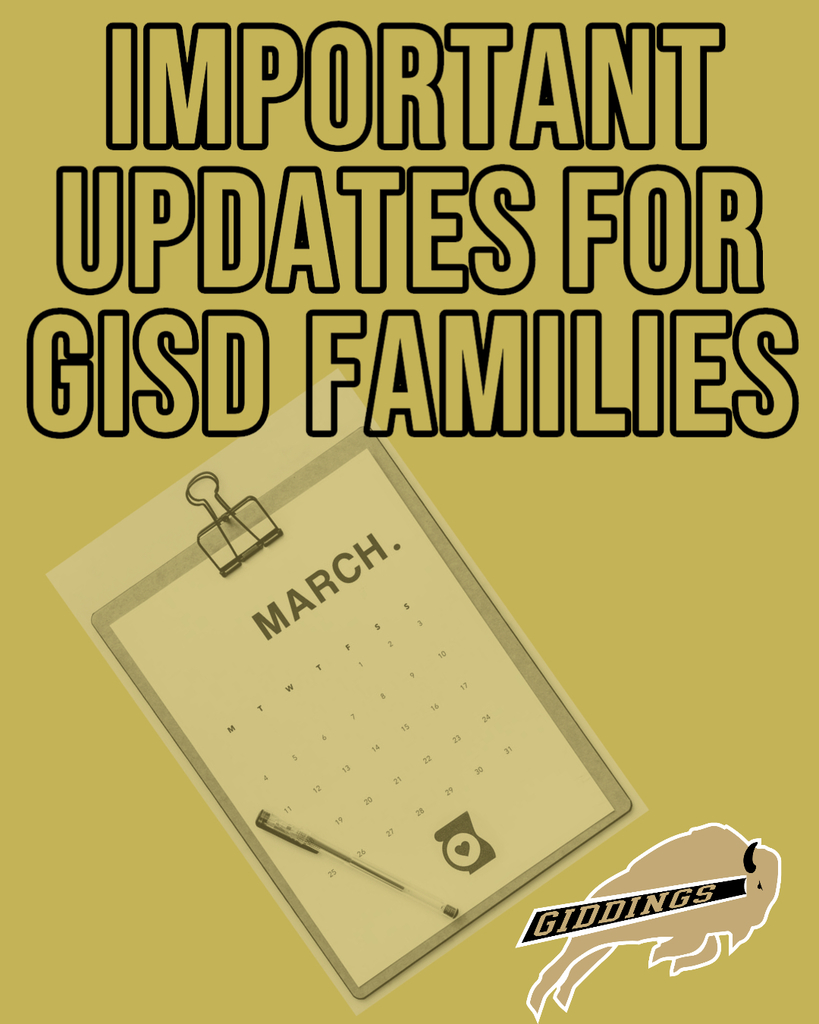 In the event of another school closure, the district will be offering instruction while at home. Please take the time to complete this survey. It will help us determine technology capabilities as we design lessons. The district will be exploring both hi-tech and low-tech (pencil & paper) activities. Thank you for time in helping us to serve you in the best way possible.
http://bit.ly/GISD-TechSurvey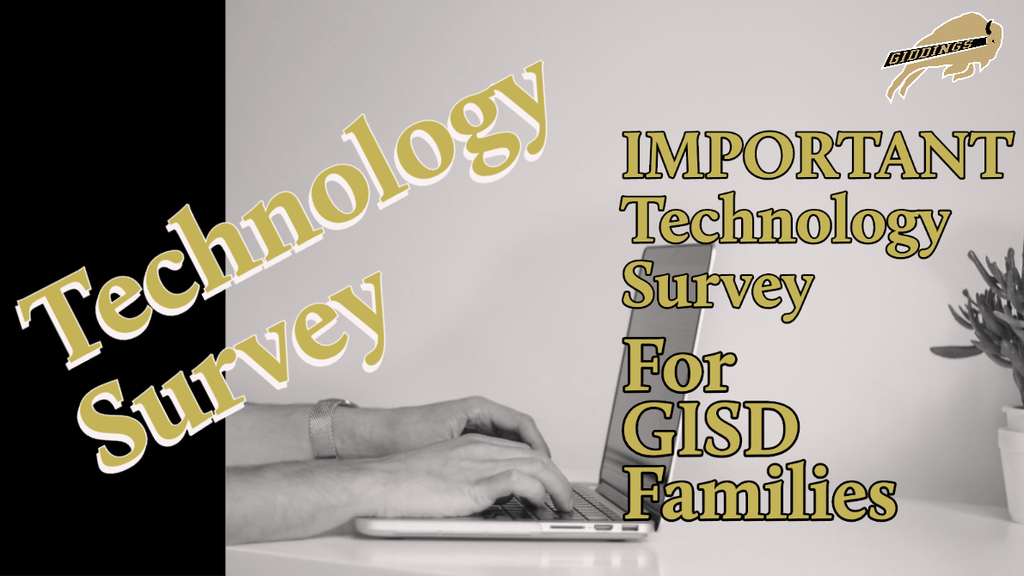 All GISD schools will be closed for the remainder of the week. UIL has also postponed all competitions. Additionally, practices, rehearsals, and workouts that occur outside the school day also postponed. Classes will resume at their normal time beginning on Monday, March 23. Buses will run on their regular schedules. If you or a member of your immediate family has traveled outside of the area in the last 14 says, please check the GISD website for return-to-school guidelines. As always, if you have fever, cough, or have trouble breathing, stay at home and seek medical attention.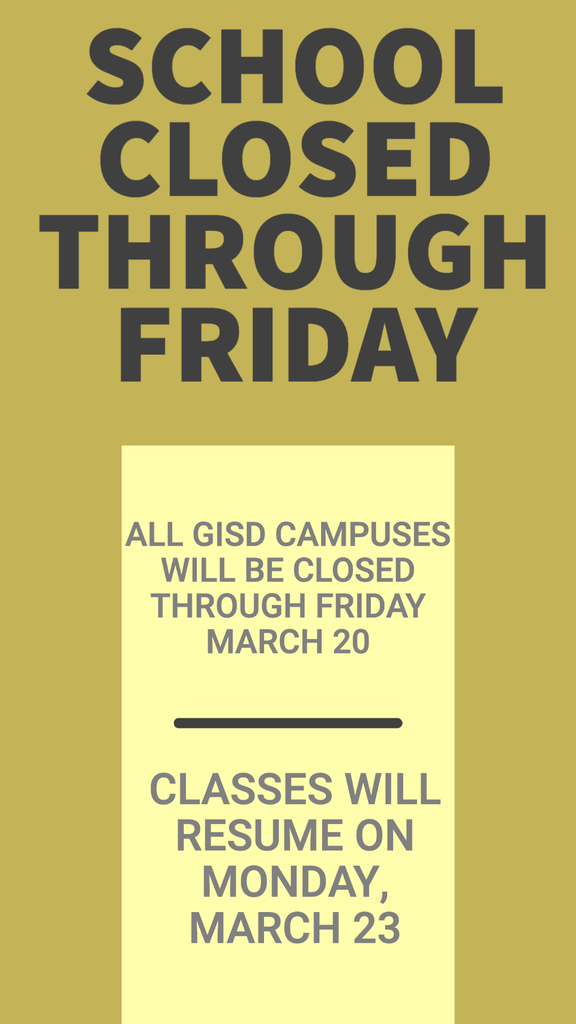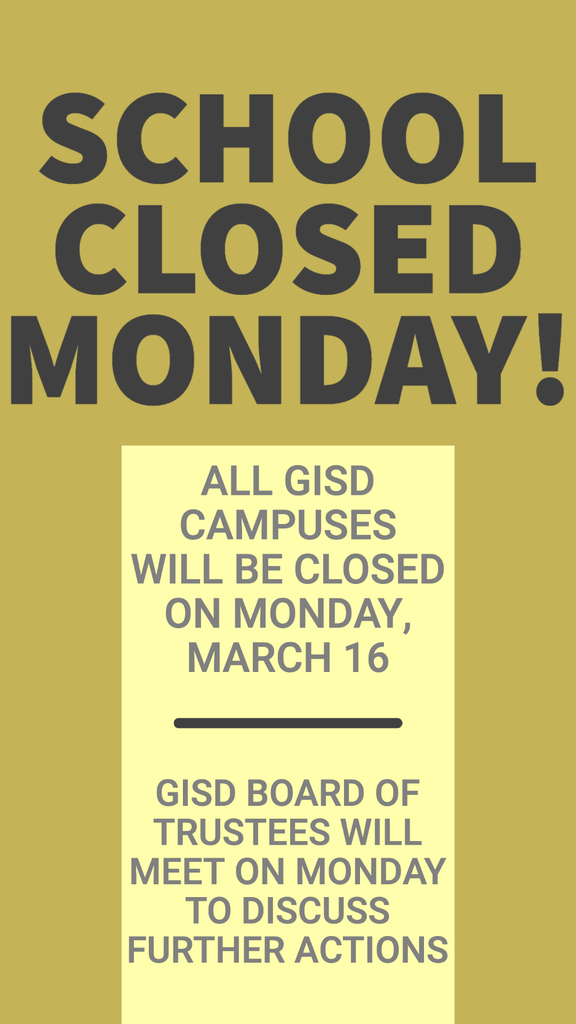 Giddings Middle School will host Open House on Monday, March 2, 2020 from 5:30 - 6:30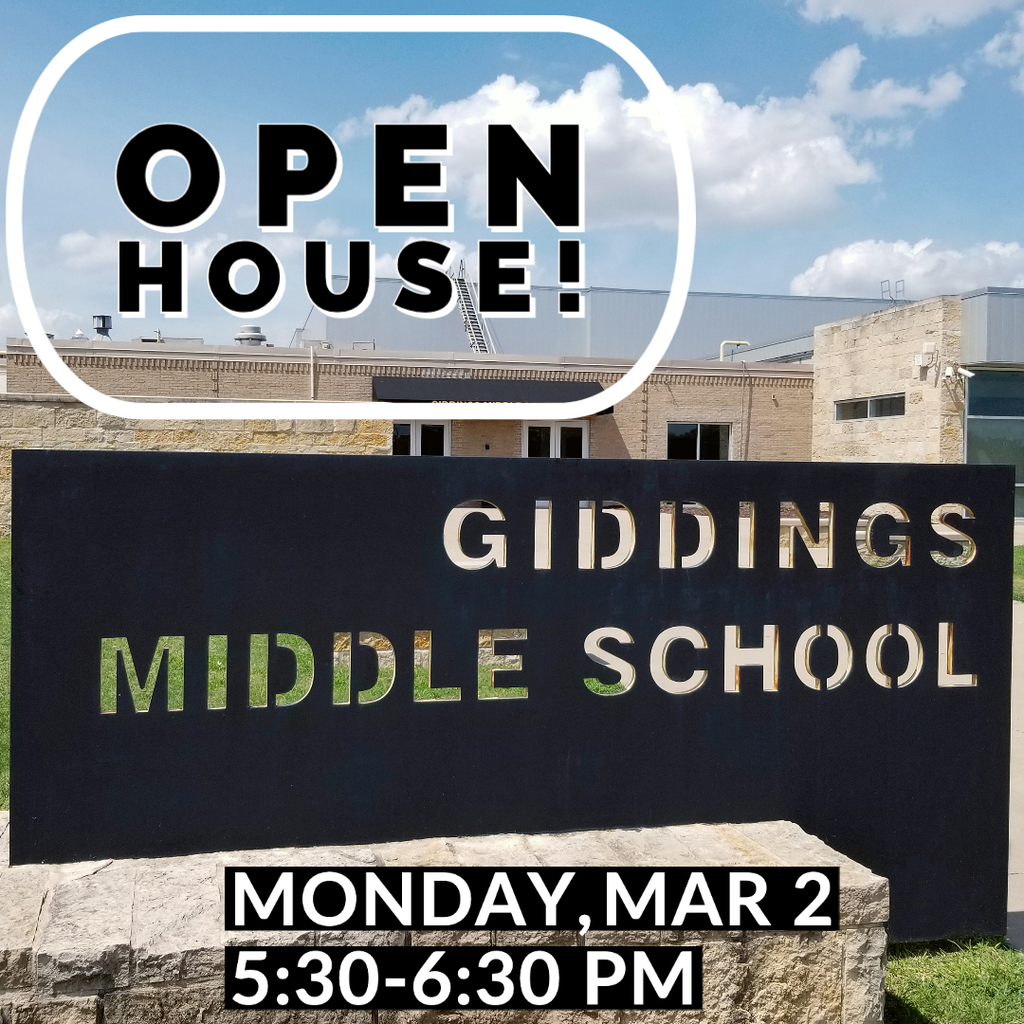 GHS Boys Basketball teams travel to Caldwell tonight. Games are 5, 6, & 7:30. #GOBUFFS

The Lady Buffs Varsity Basketball team will take on Brookshire Royal tonight in Columbus at 8 pm in the first round of playoffs! #GOBUFFS