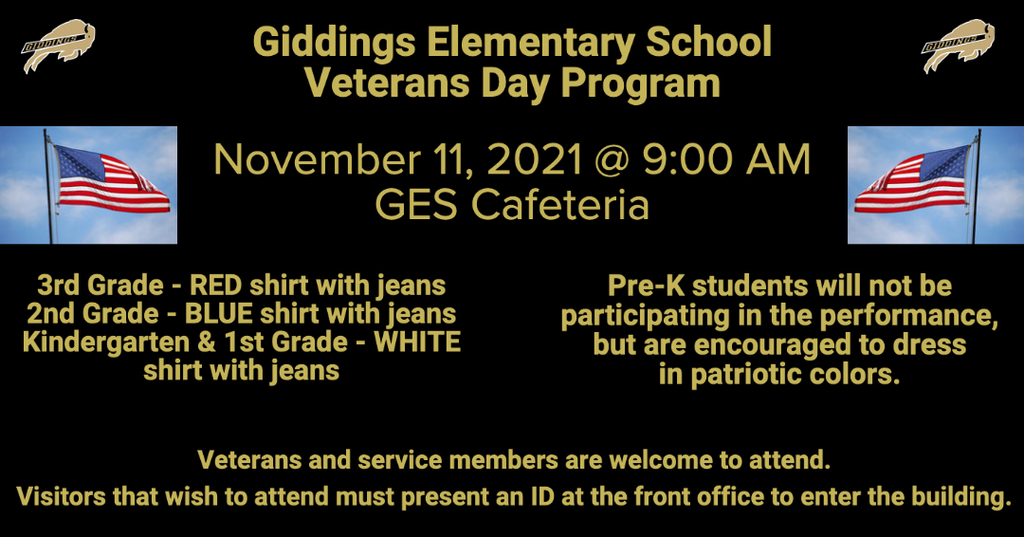 The GHS Lady Buffs will travel to Pflugerville - Weiss to play Burnet in the Regional Quarterfinal round of the UIL volleyball playoffs. The match is Tuesday, Nov. 9 at 6:30 pm. Tickets are $5 and $3 at the door or online at:
https://bit.ly/GHSvsBurnet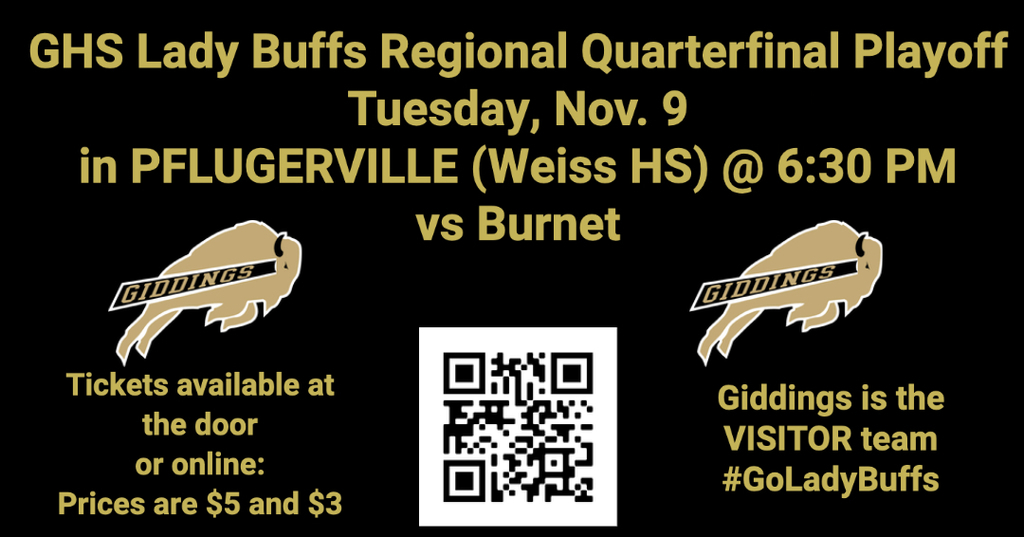 REMINDER!! -- Today's Pre-game meal fundraiser for Lady Buffs athletics is DRIVE THRU ONLY! (Friday, Nov. 5) The line will open at 4:30pm and remain open until 7pm. There are about 40 tickets left. They will be sold on a first-come-first-served basis. The hamburger meal is $10. #GoBuffs #GoLadyBuffs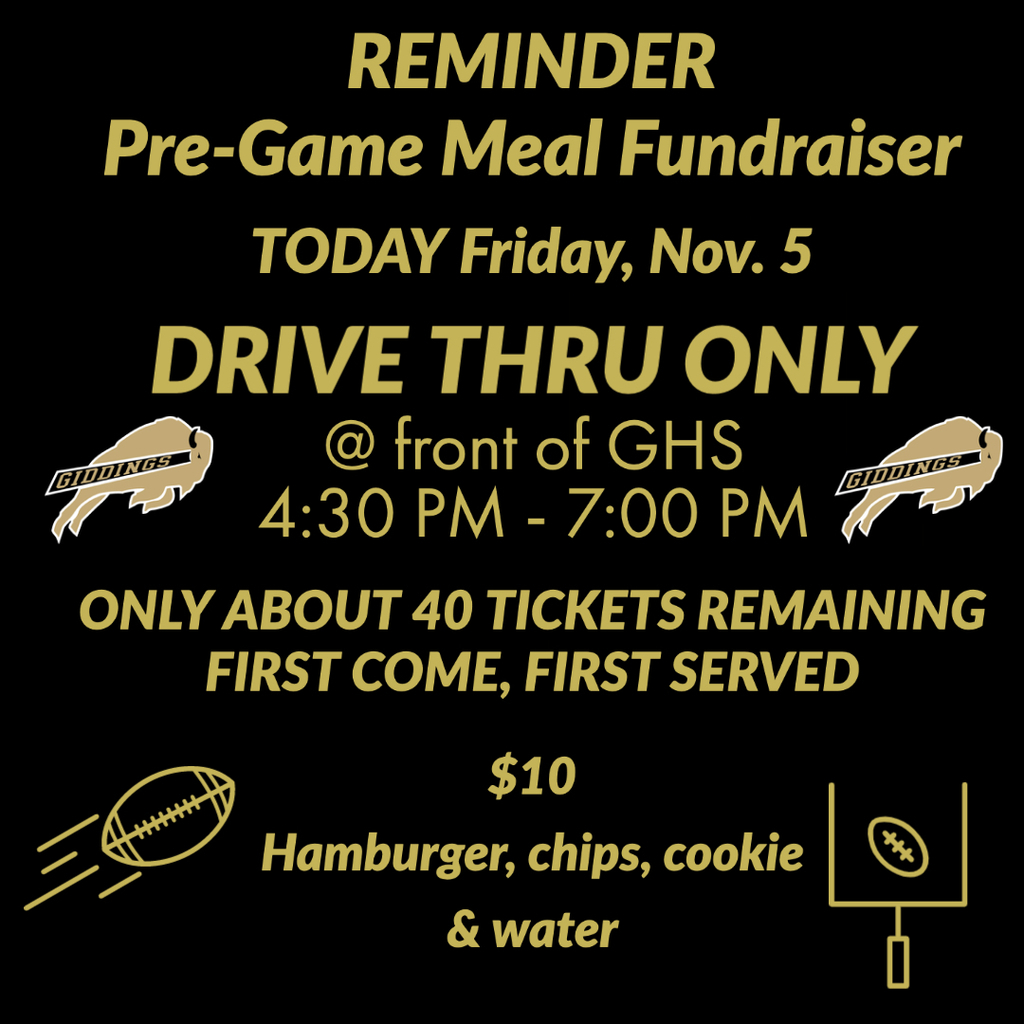 Help the Giddings High School Student Council honor local heroes! Sponsor a wreath today to be placed on a veteran's grave this December at the City of Giddings Cemetery. Just scan the QR code with your smart phone camera to make a donation online or visit
www.wreathsacrossamerica.org/TX0954
. The Due date for ordering wreaths is Monday, November 29, 2021. Wreaths will be placed December 16 & 18, 2021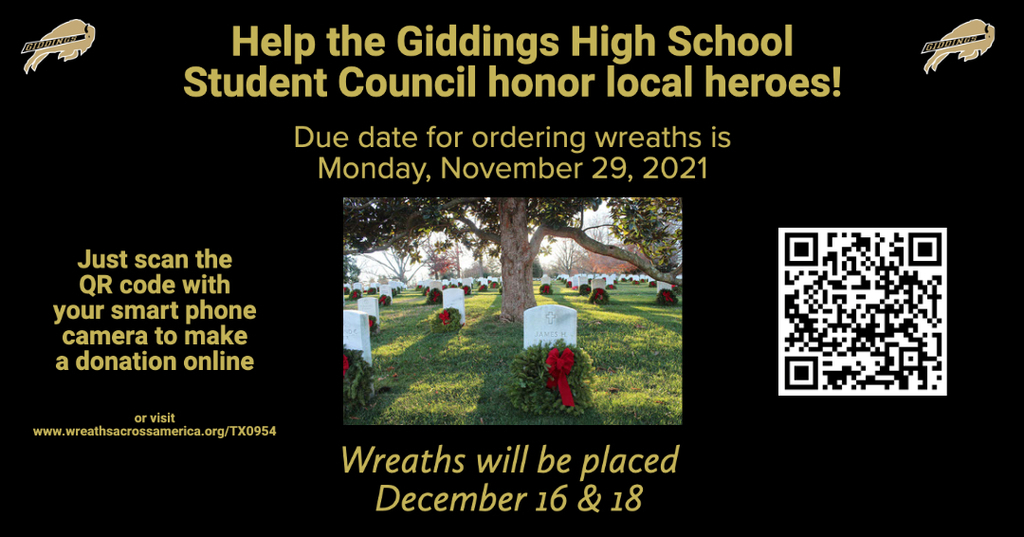 The playoff game for top seed between Co-District Champions Giddings Lady Buffs and La Grange Lady Leopards will be played in Smithville tonight, Friday, Oct 29, at 5:00pm. Giddings is the HOME team. Tickets must be purchased online here:
https://bit.ly/VB-Playoff-GHS-LGHS

The Giddings Elementary Book Fair is going on this week! Hours are Monday thru Thursday 7:30am to 4:00pm and Friday 7:30am to 12:30pm. *** On Thursday from 4:30pm to 6:00pm is the PTO Dance and Book Fair Shopping event.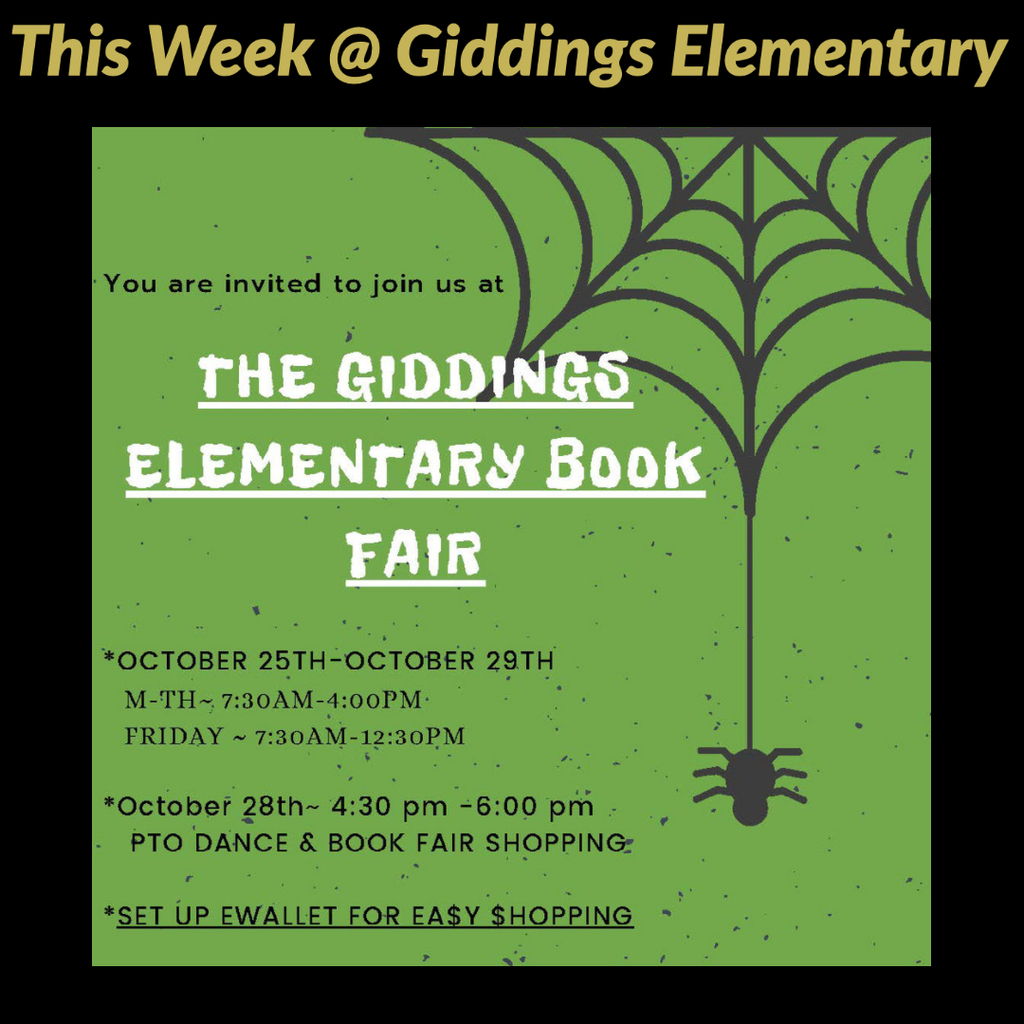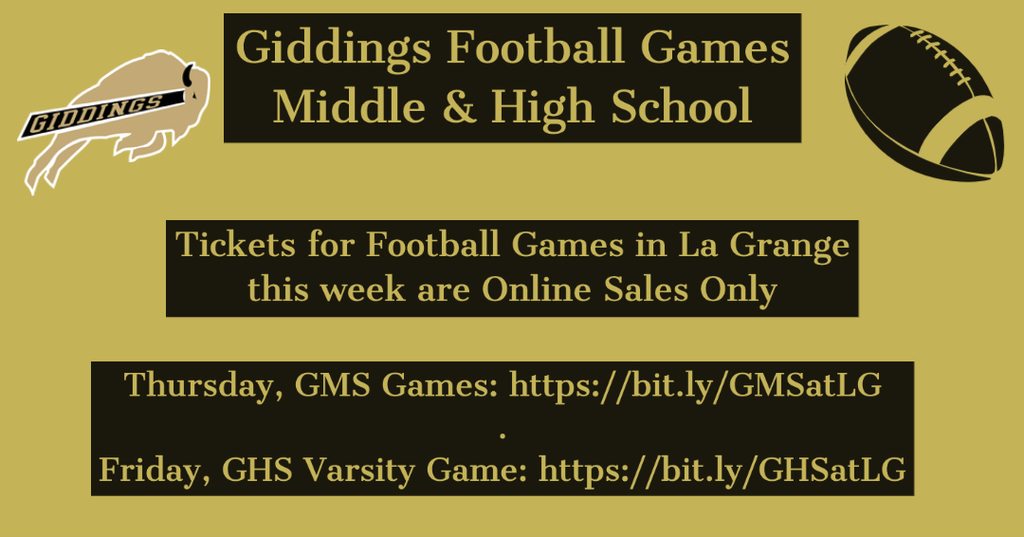 Due to a scheduling conflict, today's School Board meeting will begin at 5:30 PM (as opposed to the traditional 7:00 PM)If you have any questions, please contact the Superintendent's Administrative Assistant Dana Devoll at 979-542-2854.

*** REMINDER *** EARLY DISMISSAL *** *** TOMORROW, OCTOBER 15, 2021 *** All GISD Campuses will dismiss 2 hours early tomorrow, Friday, October 15, due to transportation needs for participants in the GHS Varsity Football game in Cuero.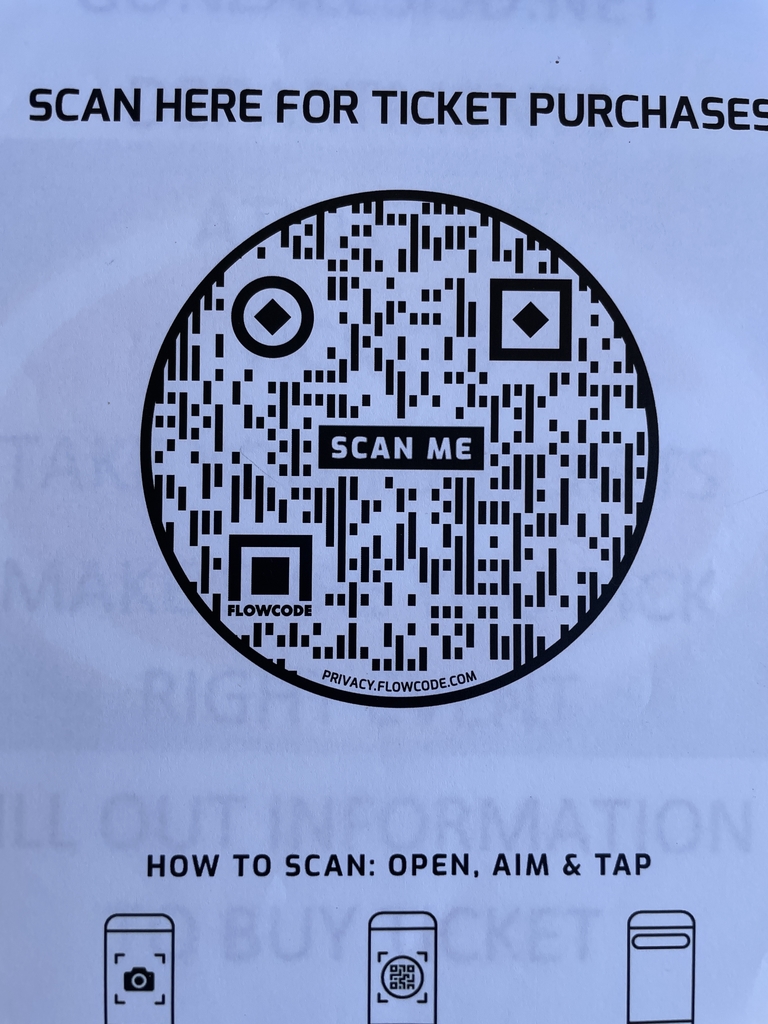 **** NOTICE OF EARLY DISMISSAL *** All GISD campuses will dismiss 2 hours early on Friday, October 15, 2021. *** Due to a shortage of bus drivers, an early dismissal is necessary to provide for the transportation of all participants to the varsity football game in Cuero. *** Dismissal times are: GES-1:15; GIS-1:20; GMS-1:25; GHS-1:35

Tonight is Family Impact Night! Giddings ISD encourages families to foster, re-establish, or even strengthen relationships in the household. The district has set aside one night per month (3rd Wednesday) in which all students in every grade level will not be assigned homework. Read more here:
https://www.giddings.txed.net/article/536379


This is a general reminder of expected conduct at Buffalo Stadium. Please review the Code Of Conduct here:
https://5il.co/yrdu
Key points include: 1)All students not seated with their parents must sit in the student section. 2) Students are not be allowed to run in the stands or congregate under the stands or anywhere else. 3) Parents are not allowed to drop off a child under the age of 12, to the football game.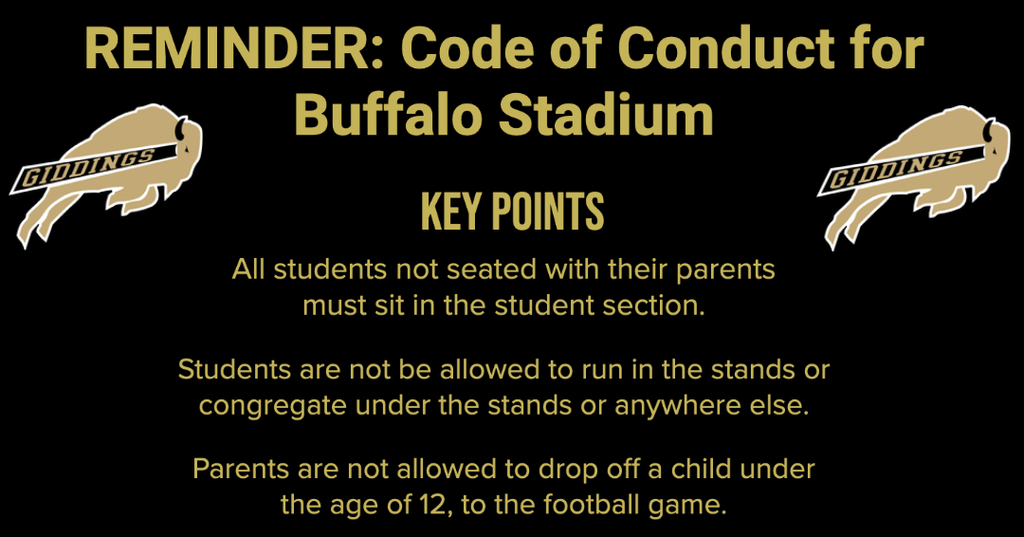 Pre-Game Meal -- Black History Club Fundraiser - Friday, Sept. 10 - Homecoming - Buffs vs Taylor -- $10 for Fried Pork Chops, Green Beans, Mashed Potatoes, Bread and Tea. To-go or Dine-In @ GHS Cafeteria 4:30 PM - 7:00 PM. Tickets available from any GHS Black History Club member, or contact David McDowell @ (979) 542-3351/ Email:
david.mcdowell@giddings.txed.net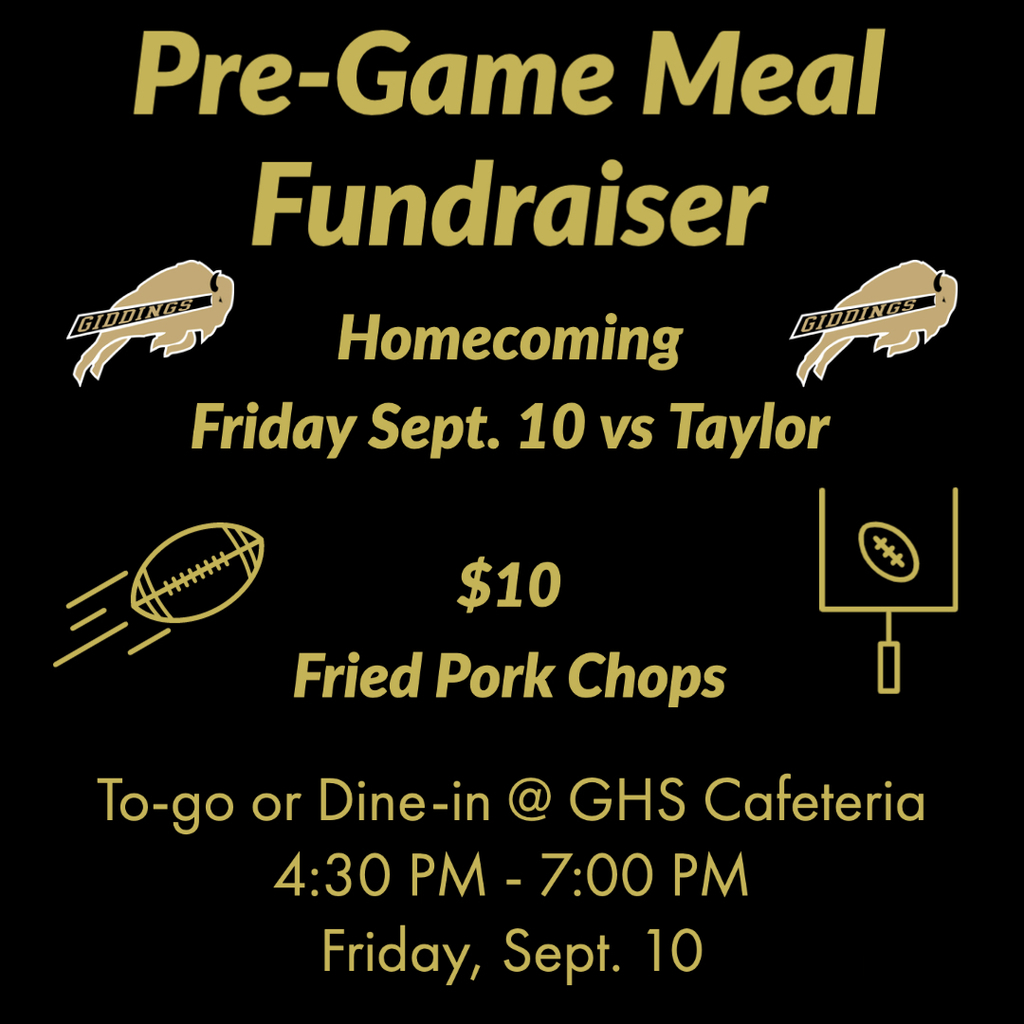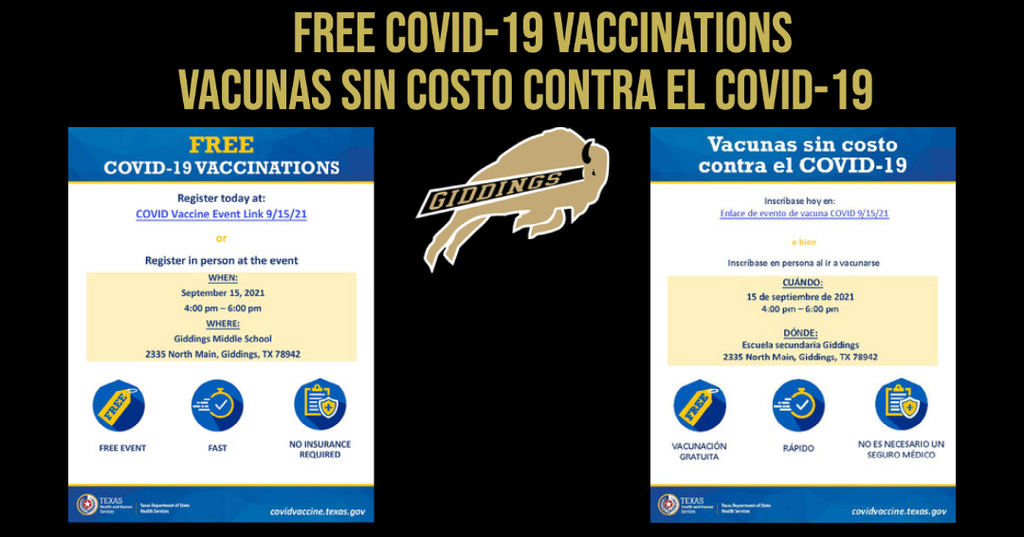 GISD would like to remind parents of the following: 1) Please continue to monitor your child for symptoms of illness. 2) If your child has any symptoms, please DO NOT put them on a bus, or drop them off at school. 3) If you would like to have your child tested, please call your campus nurse to arrange a time for a free test. Nurses will meet you in the parking lot to administer the test.

Pre-Game Meal Student Council Fundraiser Friday, Sept. 3 Home Opener - Buffaloes vs. Columbus $10.00 for BBQ pork steak, noodles, green beans, bread & water To-go or Dine-in @ GHS Cafeteria 4:30 PM - 7:00 PM Tickets available from any GHS Student Council Member Or Contact Shelly Kylberg (
michelle.kylberg@giddings.txed.net
) or Ami Fromme (
ami.fromme@giddings.txed.net
)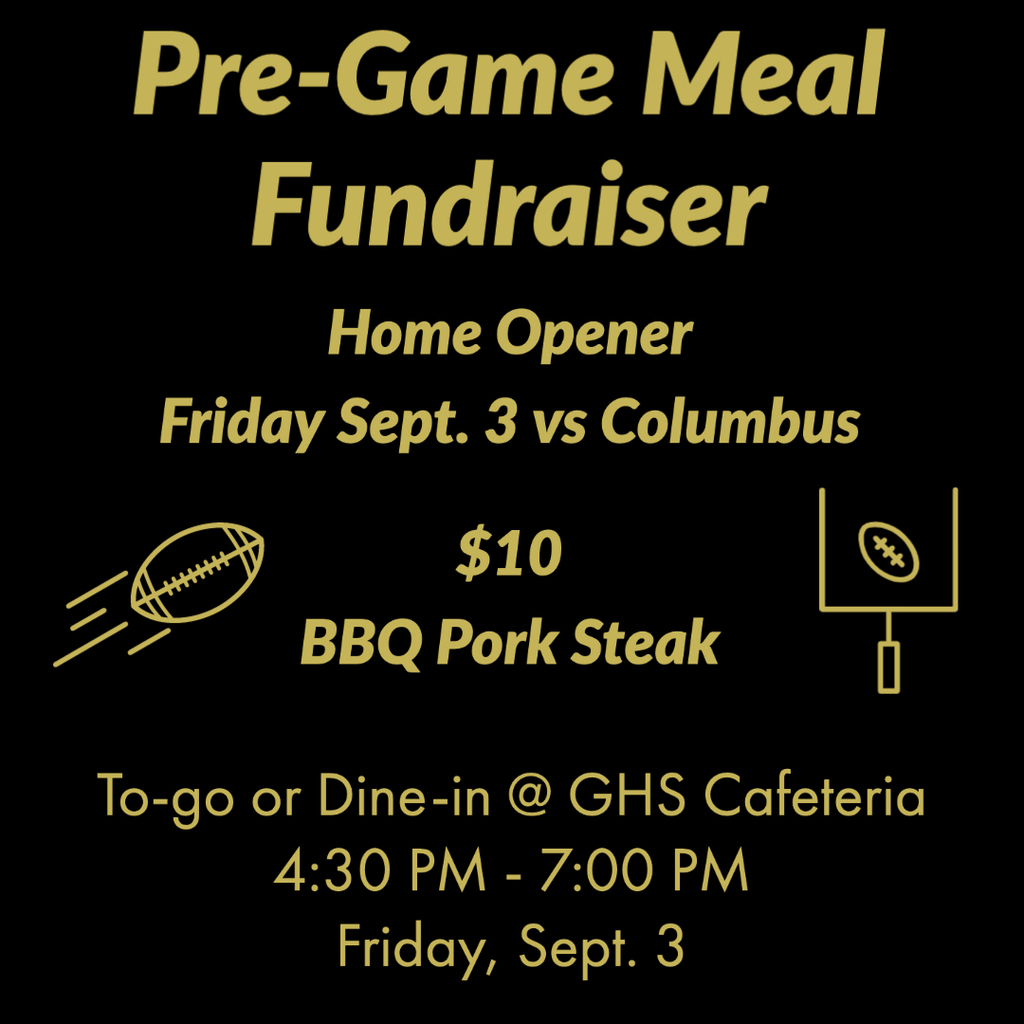 GISD will be providing an opportunity for eligible students, staff, and community members to receive the COVID vaccination if they so choose. It is not mandatory but simply being made available in what we hope is at a convenient time and location. The Texas Department of State Health Services will be providing the vaccination. It is free to any student or staff that is interested. Students will need parent permission to participate in the vaccination clinic. Please complete the following anonymous survey so that the Texas Department of State Health Services will know how to proceed in preparing for the vaccination clinic.
https://forms.gle/BjZfkaoAhNXPCoiG8